Bell has restarted UH-1Y Venom utility helicopter production to fulfil an order placed by the Czech Republic in late 2019.
Production of the UH-1Y stopped in 2018 after the final example of the helicopter was delivered to the US Marine Corps (USMC). However, because the utility helicopter shares 85% of its parts in common with the AH-1Z Viper attack helicopter – which is still in production – Bell was able to restart building of the UH-1Y, it says.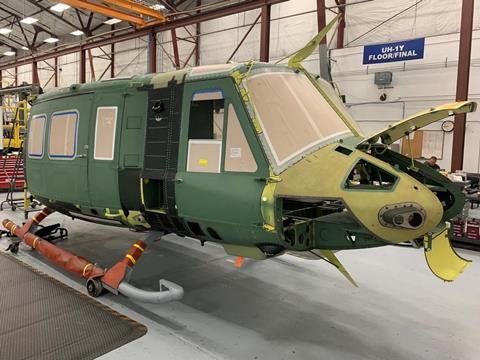 "The commonality between the aircraft enabled critical component supply chains to remain active during AH-1Z production for the USMC," says Bell. "The UH-1Y and AH-1Z share the same engines, integrated mission system and dynamic components, such as the four-bladed rotor system."
Crestview Aerospace is subcontracted to manufacture the helicopter's cabin, while final assembly will take place at Bell's Amarillo, Texas facility, the company says.
The Czech Republic ordered eight UH-1Ys and four AH-1Zs for Kc14.6 billion ($600 million) in 2019. That contract includes weapons, spare parts and training. Prague is the first foreign customer for the UH-1Y, the last generation of the UH-1 "Huey" utility helicopter that was made famous by its use in the Vietnam War.
The USMC is the largest customer for the UH-1Y, having received 160 examples of the type from Bell. The service is scheduled to receive the last aircraft in its 189-unit AH-1Z programme of record in early 2022.
Bahrain is also on contract for 12 examples of the AH-1Z.