Military operators in the Asia-Pacific region continue to express interest in Bell's civil helicopters, such as the 412 medium-twin, as they seek cost-effective solutions for their vertical lift requirements.
The ease-of-use and low cost of civil derivatives relative to dedicated military models makes the rotorcraft favourites with Asian defence buyers, says John Woodbery, Bell's director of international campaigns for Asia.
Woodbery highlights the 412 utility helicopter as an "easy aircraft to operate" which is also "very cost effective".
"For countries that are cash strapped or have limited budgets, it's a perfect solution for them," he says.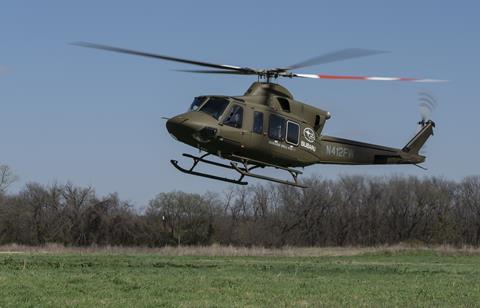 The four-bladed 412, as well as its 212 predecessor, are civil derivatives of the Vietnam War-era's UH-1 Huey. Large operators of the legacy types include the armies of Indonesia, Pakistan and Thailand.
Bell and Subaru also jointly developed the 412EPX, the latest variant of the twin, which is being acquired by the Japan Ground Self-Defence Force under its UH-X programme. The updated model has a greater maximum take-off weight and Bell's BasiX Pro avionics suite.
Another example of a civil helicopter being repurposed for military operations is Babcock Australia's plan to bid a modified version of Bell's 429 light-twin for an Australian Army special forces requirement that calls for 20 examples of an in-service rotorcraft that can support operations in urban environments.
Bell also sees a few remaining opportunities to sell its AH-1Z Viper attack helicopter in the region, especially to services that operate in the littoral environment and need a helicopter that can deploy from ships. A previous attempt to sell the Viper to Pakistan foundered after the US government stepped in.
"I think there may be one or two [potential deals] left," Woodbery says. "We're keeping our fingers crossed and keeping those conversations going."