Bell believes its work on the V-280 Valor tiltrotor for the US Army and the unmanned V-247 Vigilant tiltrotor concept for the US Marine Corps (USMC) ought to have "synergy" with the US Navy's (USN's) Future Vertical Lift (FVL) Maritime Strike programme.
The USN is seeking to replace its fleet of Sikorsky MH-60R/S Seahawk helicopters and Northrop Grumman MQ-8B/C Fire Scout unmanned air vehicles (UAVs), as part of its FVL Maritime Strike programme. Bell is in the process of answering the service's request for information, issued in January, for that programme, the company said on 24 March.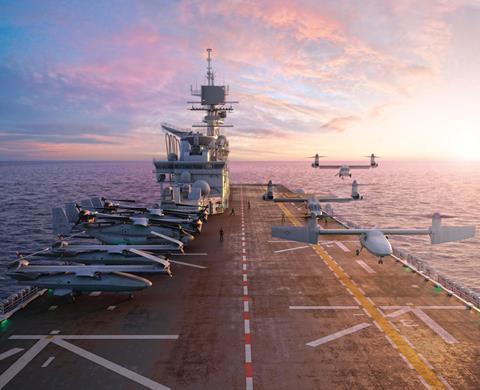 "We think there's a lot of potential in terms of what we've done with the V-280 so far under the [US Army's Joint Multi-Role Technology Demonstrator] effort and what we're doing on the [Future Long Range Assault Aircraft] programme," says Keith Flail, executive vice-president of advanced vertical lift systems. "You're looking at a need for runway independence, [a] need for significant speed and range. We see a lot of synergy with what we've done with the Valor so far as we look to the Navy Maritime Strike."
The V-280 has a combat radius of 500nm (926km) to 800nm, says Bell. The tiltrotor has demonstrated the ability to fly faster than 300kt (556km/h).
Flail says the V-247 Vigilant ought to also have synergy with the unmanned component of the FVL Maritime Strike programme. The V-247 was developed as a tiltrotor concept for the USMC's Marine Air/Ground Task Force, Unmanned Aerial System, Expeditionary (MUX) aircraft programme. The USMC cancelled MUX in 2020 after conceding that it was too ambitious; the programme sought a UAV that could handle early warning, electronic warfare, command, control and communications work, as well as intelligence, surveillance and reconnaissance missions.
The FVL Maritime Strike programme wants rotorcraft to replace the navy's MH-60R/S and MQ-8C fleets, when those aircraft begin to reach their end of service in the 2030s. The MH-60R/S is the service's premier submarine hunter and anti-surface warfare helicopter. It also has a secondary role as a utility helicopter. The unmanned MQ-8C conducts limited intelligence, surveillance and reconnaissance work.
Bell is not planning to offer the V-280 and V-247 as currently designed for the USN's Maritime Strike programme, says Flail.
"We're not just going to say, 'Here's the V-247. This is the right answer for you for unmanned maritime strike,'" he says. "We want to make sure we're meeting the specific requirements as laid out in the [request for proposal]."