Bell will no longer make predictions of when its 525 Relentless super-medium transport helicopter will finish Federal Aviation Administration (FAA) certification testing and enter into service after several years of delays.
The helicopter will not receive its type certificate in 2019 as previously predicted and during a press tour at its Amarillo, Texas Flight Test Center on 12 December the company declines to say if it would be ready for service in 2020.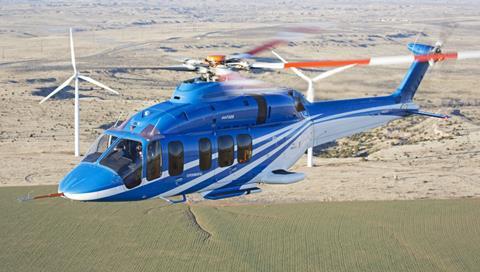 However, the manufacturer says it is optimistic about the helicopters' target market, the oil & gas industry, despite recent downturns in the sector causing prominent helicopter operators such as Bristow Group and PHI to go bankrupt.
The company has four examples of the 525 helicopter currently in flight testing. The fourth helicopter, named Ship 15, is production representative with seating for 16 passengers, a configuration intended for transporting workers to and from offshore oil rigs.
The four helicopters in total have 1,500 flight hours since beginning flight tests four years ago.
The rotorcraft's flight testing and the entry-into-service date were delayed after one of the 525 helicopters crashed and killed two test pilots in 2016. Originally, Bell had planned to introduce the helicopter into service in 2015 or 2016.
Flight testing of the aircraft resumed a year later, but recently has slowed down again due to extra scrutiny the FAA is giving its aircraft certification process after two crashes of the Boeing 737 Max.
"There's an increased focus. We've all seen the increased focus on the 737 Max," says Josh O'Neil, senior manager of the Bell 525 integrated product team. "[The FAA is] kind of focusing down. Do we have all the i's dotted, the t's crossed? Certainly nobody's going to escape that."
Still, O'Neil is not certain the extra scrutiny is going to further delay the 525's entry into service date, noting that much of what the FAA is asking for is information early. Many of the safety regulator's requests would be made eventually, he says.
Tests yet to be completed include noise, handling qualities and fire extinguishing evaluations, among about a dozen other checks.
Bell has six 525 helicopters in various stages of production, with one "close" to being finished, says O'Neil. He declines to say the company's production rate for the aircraft.
The 16-seat 525 is designed from a clean sheet with an airframe that is marinised for flying to offshore oil & gas rigs. The aircraft has a 580nm (1,074km) range and a max cruise speed of 160kt (296km/h). It would be the world's first commercial helicopter with fly-by-wire flight controls, though delays may mean other helicopters may overtake it.
Those would-be performance capabilities mean the 525 is still best suited for the oil & gas market, especially harsh environments, such as the cold and wet North Sea or dry and sandy Middle East, says O'Neil.
"When you talk about the market for an aircraft of this category, that's still really the sweet spot," he says. "Yes, it may have declined, but it's still a pretty active market."
The company plans to initially offer the helicopter in oil & gas configurations, but eventually introduce a VIP version and then a search and rescue variant, he says.
Bell declines to talk about its order book for the 525. Lead prospective customer Milestone Aviation, which in 2015 signed a Letter of Intent for 20 examples of the 525 helicopter to start being delivered in 2017, is similarly mum, declining to comment on the status of its commitment.