Bell plans to begin building the fuselage of its first prototype of the 360 Invictus winged helicopter next week in Amarillo, Texas.
Some off-ship assembly for the company's prototype for the US Army's Future Attack Reconnaissance Aircraft (FARA) programme started this week, Jayme Gonzalez, Bell programme director for FARA said on 14 October.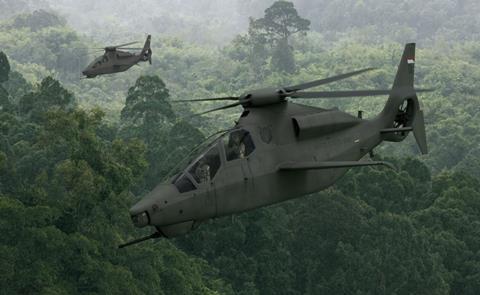 FARA is the US Army's replacement scouting and light attack rotorcraft for the Bell OH-58 Kiowa Warrior, which was retired in 2017. The service has used Boeing AH-64 Apache attack helicopters teamed with General Atomics Aeronautical Systems MQ-1C Gray Eagle unmanned air vehicles to accomplish scouting missions in the absence of the OH-58.
However, the US Army would prefer to have a dedicated armed reconnaissance helicopter and has said FARA is its top aviation priority. It wants FARA to be designed, built, tested, flown and fielded to its first unit by 2028.
The service wants FARA to have a cruise speed of at least 180kt (333km/h). Because it anticipates future battles to take place inside megalopolises, the aircraft is to be small enough to fit in between buildings. That means a rotor diameter no greater than 12.2m (40ft).
To meet the US Army's requirements, Bell based the 360 Invictus on the rotor system of its 525 Relentless, an in-development super-medium commercial helicopter. While the 525 has a five-bladed main rotor, the 360 only has four. And, the 360's main rotors are shorter, with a diameter of 12.2m, versus the 525's 16.6m length.
The 360 Invictus has a wing and a booster auxiliary power unit to help the helicopter reach high speeds without encountering retreating blade stall. Tandem seating and a ducted tail rotor help make the aircraft more aerodynamic.
The 360 Invictus is competing against Sikorsky's Raider X, a compound co-axial helicopter that uses a pusher propeller to reach high speeds.
To meet its rapid fielding schedule, the US Army wants two prototype aircraft ready for flights by fiscal year 2023. A winner would be selected by the end of FY2024.