With three rotors, spinning in three different axes, Boeing's compound helicopter bid for the US Army's Future Attack Reconnaissance Aircraft (FARA) competition might strike the novice as complex.
But that is not the case, says the manufacturer.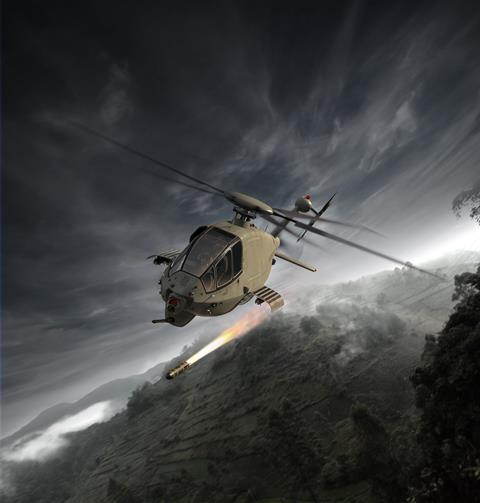 "What we have here is a conventional helicopter configuration with a propulsor on the tail," says Shane Openshaw, Boeing's FARA programme manager. "So there's a clutch in the drive train, behind the intermediate gearbox that drives the tail rotor, that adds the power to the configuration."
The helicopter has a six-bladed main rotor, four-bladed conventional tail rotor and a four-bladed propeller on the back. It uses a single engine and should be able to reach the army's cruise speed requirement of 180kt (333km/h), says the company.
Boeing says its FARA bid is so far a one-company effort, even though several of its competitors have established teams, such as Karem Aircraft's AR40 partnership with Northrop Grumman and Raytheon. It says the clean-sheet design was developed by its Phantom Works unit, with contributions from subsidiaries AvionX and Aurora Flight Sciences.
In particular, Boeing is leaning on the simplicity and performance of the compound helicopter's hingeless rotor.
"The high solidity, hingeless rotor is going to give this aircraft phenomenal manoeuvrability characteristics that are going to meet the army's expectations without necessarily associated complexity," says Openshaw. "Due to a greater offset of the effective flap hinge from the rotor centerline, a hingeless rotor generates more control moment to the airframe than an articulated rotor. The greater blade area, and number of blades, delivers additional load factor – that is, manoeuvrability – in the flight regime with the most excess power."
The use of the propeller enables the vehicle to maintain airspeed during manoeuvres that would cause other helicopters to lose airspeed, he adds.
Boeing notes its experience with hingeless rotors on two rotorcraft from the 1970s: the Boeing Vertol YUH-61 utility helicopter and the Boeing Vertol Model 222 tiltrotor.
The YUH-61 lost out to Sikorsky's YUH-60A in the US Army's Utility Tactical Transport Aircraft System competition. Nonetheless, Boeing's FARA main rotor is derived from the YUH-61 design, says Openshaw. The Boeing Vertol Model 222 never flew off the drawing board, as it lost a prototyping contract in NASA's XV-15 tiltrotor competition to the Bell Model 301. But in the 1980s, Boeing and Bell would team up to develop the V-22 Osprey tiltrotor for the US Department of Defense.
Most recently, in 2015, Boeing says it windtunnel tested an active rotor system using a hingeless hub under US Army sponsorship.
While all of its competitors – Bell, Karem, Sikorsky and an AVX Aircraft and L3 Technologies team – unveiled their FARA designs to the public months ago, Boeing decided to not release images or give specifics about its configuration until final bids were submitted in March. The company has previously explained that it believes it could lose a competitive edge if it were to tip its hand prior to the final deadline.
The FARA competition is aimed at reintroducing a scout and light attack helicopter to the army's inventory after the 2017 retirement of its Bell OH-58 Kiowa. Later this month, the service is expected to select and fund two designs to be built into prototypes, with one finalist aircraft to be produced and introduced to service by 2028.
BALANCING ACT
Boeing's FARA design was the result of careful trade studies, which tried to balance the army's desire for more speed and maneuvrability, while maintaining a low lifecycle cost, says the company.
"We did not go into this effort with our mind made up on what our approach was to be," says Openshaw. "We went through an array of trades and prioritisation to define our solution, and it is purpose-built for the army."
For example, Phantom Works played with the idea of powering its rotorcraft with two turbines or even one turbine plus a supplemental power unit – like the Bell 360 Invictus design also bid for FARA – but ultimately decided that the US Army's chosen GE Aviation T901 was all that was needed.
The company's FARA offering resembles the Lockheed AH-56 Cheyenne; an experimental attack helicopter with a wing and tail-mounted thrusting propeller which first flew in 1967. Boeing says this likeness does not go beyond the basic configuration, but acknowledges that it did examine some aerodynamic data from AH-56 testing.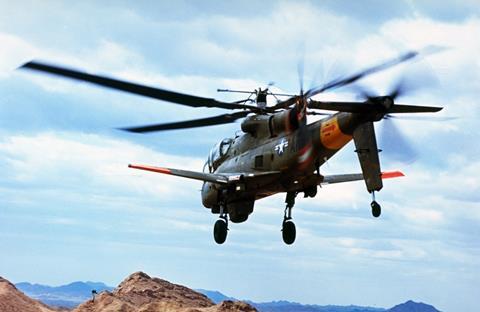 Boeing's design also is smaller than the AH-56, although Openshaw declines to reveal its exact dimensions, citing these as a competition secret. However, the army has limited its future FARA system's maximum rotor diameter to 12.2m (40ft), to allow the scout aircraft to fly in between buildings in imagined battles within megacities of the future. Openshaw also notes that its compound helicopter configuration is more feasible than its AH-56 predecessor, due to its use of fly-by-wire flight controls.
The Boeing FARA design is most similar to a conceptual Compound AH-64 Apache, an idea which the company floated in May 2019. Windtunnel tests on the tail section of a subscale model of that aircraft are being used to prove out the FARA design, the manufacturer says. Its rotor system is being examined in windtunnel tests of another subscale model.
Other features of the Boeing design include a tandem cockpit to allow for maximum visibility and combat survivability, but also to streamline aerodynamics.
"The focus of our effort was high-speed [and] low drag," says Openshaw. "Managing the drag is an important element of being successful at operating at those speeds, for whatever configuration is participating."
MOVE FASTER
Boeing emphasises that development and manufacturing risk to the US Army have been taken out of its bid due to its reliance on existing technologies from fielded aircraft, including flight controls, communication, navigation, survivability equipment, sights, weapons, and data management technology.
"There is no invention required," says Openshaw. "While the rotors, drives, airframe, flight controls, landing gear, fuel, and propulsion systems are FARA-unique, they draw heavily on technologies from other Boeing aircraft."
The company mostly declines to say from which aircraft the borrowed technologies come, although "the tail rotor and propeller blades draw on the AH-64 composite tail rotor blade for performance, strength and combat readiness," says Openshaw.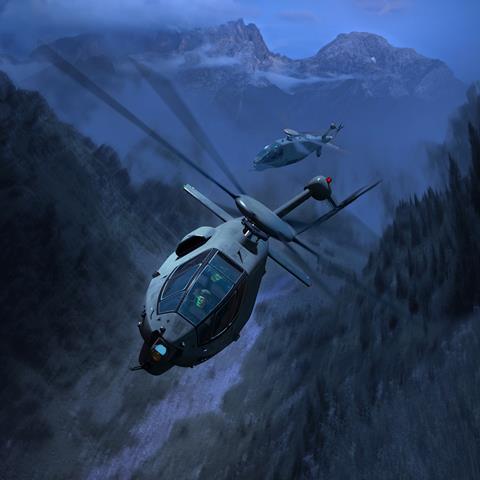 The presumptive current leader of the FARA competition is Sikorsky's Raider X, a compound helicopter which recently started construction and is based on the already flown S-97 and X-2 technology demonstrators.
To catch up with Sikorsky, Boeing says it is in talks with suppliers and has bought some undisclosed long-lead-time components.
Ultimately, should Boeing be granted a prototyping contract in March it will rely on its expertise in digital technologies to leapfrog the competition and stay in sync with the army's tight timeline. This calls for a fly-off competition during 2023, before deliveries begin five years later.
For example, the company is extensively using computer fluid dynamics software programmes to study the aircraft's aerodynamics outside of windtunnel and flight testing, says Mark Cherry, vice-president and general manager of Boeing Phantom Works.
The airframer also aims to move quickly by using model-based systems engineering methods that were central to its recent programme wins to supply the US Air Force's T-7A advanced jet trainer via the T-X contest and the US Navy's MQ-25 unmanned tanker. "Model-based system engineering gives us additional confidence, with previous programmes, aircraft like T-X, like the MQ-25, that we're going to be able to hit those timelines," says Cherry.
Boeing's T-X bid was priced billions of dollars below the air force's expectations, and caused Marillyn Hewson, chief executive of competitor Lockheed Martin, to speculate that the company was selling the aircraft to the service at a loss, with the intention of making profits on international sales. Boeing denies that was the basis of its bidding strategy and points back to savings from its model-based systems engineering approach.
While Boeing has revealed little about its model-based engineering systems approach, Cherry explains the method allows designers to save time and money by catching mistakes early – a tactic it wants to repeat successfully with FARA.
"We're able to do design in a much more integrated way such that you don't have rework. First-time quality and engineering is something that we're driving hard," says Cherry. "We will spend more time upfront in the design phase and we've seen evidence that has reduced time in the production as well as test phase."