Boeing has released a teaser video of its US Army Future Attack Reconnaissance Aircraft (FARA) design.
The outlines of the helicopter are seen in a darkened promotional video released by the company online on 11 February.
From the video, Boeing's FARA appears to be a conventional helicopter, perhaps with a pusher propeller. The number of rotors on the helicopter cannot be conclusively determined.
The helicopter does not appear to have a wing, as some of its competitors do, to help it achieve lift at high speeds.
The US Army wants its next armed scout helicopter to be able to reach a top speed of 180kt (333km/h). Many competitors have equipped their rotorcraft with wings and a pusher propeller to reach that speed.
The Boeing FARA helicopter has tandem seats and a streamlined fuselage to allow for high-speed flight. It has one air intake scoop on its right side.
The rendering shows a helicopter with weapons pylons on each side. Presumably, the pylons fold down, storing weapons internally, in high-speed forward flight to reduce aerodynamic drag.
The nose of the helicopter appears to sport some sort of targeting turret.
While all other bidders in the US Army FARA acquisition competition – Karem, Sikorsky, Bell, and the AVX Aircraft and L3 Technologies team – have revealed renderings and details of their designs, Boeing has held its card close.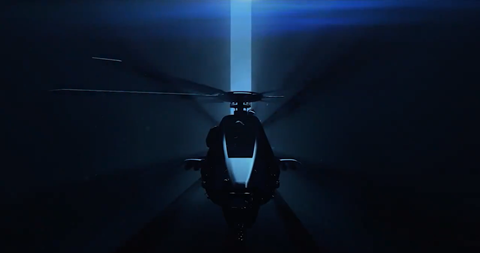 The teaser video Boeing released online comes several weeks before the US Army plans in March 2020 to fund the development of two designs into flyable prototypes. The two finalist companies are to compete in a fly-off competition by 2023.
Boeing said at the Association of the US Army exposition in October 2019 that it didn't want to reveal its proposal because its competitors could use the information to gain an advantage on it.
The company's FARA bid has been the subject of much conjecture. In May 2019, the company unveiled the conceptual Compound AH-64 Apache, a variant of the attack helicopter with a pusher propeller and small wing. It did not explain why it was putting forward the idea, though some speculated a variant of the Compound AH-64 Apache could fulfill the FARA role.
The latest rendering of the Boeing FARA does not appear to be based on the Compound AH-64 Apache.
Boeing says it plans to compete on cost and its rapid prototyping abilities, particularly the model-based engineering processes which it claims were central to its ability to win the US Air Force's T-7A Red Hawk advanced trainer contract in 2018.