The Canadian coast guard has received its final Bell 429, the last part of its helicopter "Fleet Renewal Plan".
The light, twin-engined helicopter was delivered to the service in September, as the last of 16 examples which were ordered in 2014, the Canadian coast guard said on 15 November. The 429 helicopters were built at Bell Textron Canada's Mirabel facility in Quebec.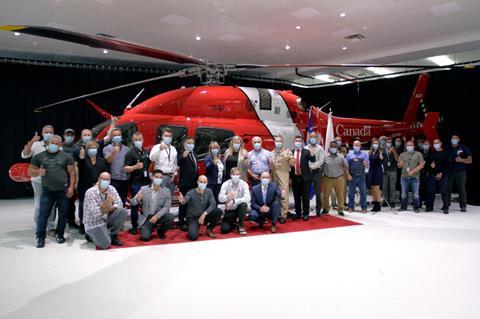 The Canadian coast guard also ordered and has received a fleet of seven Bell 412EPI medium, twin-engined helicopters as part of its Fleet Renewal Plan. In 2014 and 2015, Bell and Bell Textron Canada were awarded contracts worth more than $338 million to deliver the 429 and 412EPI helicopters.
"Through the Canadian coast guard's Fleet Renewal Plan, we're ensuring our members have the best available equipment with which to do their jobs," says Mario Pelletier, commissioner of the Canadian coast guard. "The coast guard's fleet of Bell 412 and 429 helicopters and the pilots play an important role in ensuring that coast guard services are available to Canadians wherever they may be."
The 429 and 412EPI are used by the Canadian coast guard to help ships navigate, for response to oil spills, in support of icebreaking ships and on search and rescue operations.