The US Army believes a combination of domestic and foreign sales will give the Boeing CH-47 production line in Philadelphia, Pennsylvania the minimum demand needed to remain open until at least 2025.
After speaking with Boeing, the service suspects the production line can be sustained at a rate of 18 helicopters annually, says Bruce Jette, assistant secretary of the US Army for acquisition, logistics. and technology. He made his comments during testimony to the US House Armed Services Committee on 10 March.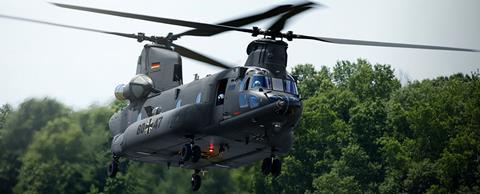 Boeing could produce 18 aircraft annually by running one eight-hour shift daily, five days weekly, he says.
In addition to remaining US Army orders, the line will depend on sales of six new-build CH-47 Block I helicopters for the Netherlands and eight of the same type for Singapore. Boeing is also to remanufacture 17 CH-47Ds into the CH-47F configuration for Spain's army.
The company is also eyeing an order from the UK.
"We have a [letter of authorisation] awaiting signature with the UK," says Jette. "We're pretty confident that'll follow through. They're going through their current budget works as well. We expect that by October."
The CH-47 is also in head-to-head competition against the Sikorsky CH-53K King Stallion in Israel and Germany. Both countries want a heavy-lift helicopter, with Germany interested in buying 60 aircraft and Israel interested in buying 20.
In November 2019, the United Arab Emirates was approved by the US State Department to buy 10 Boeing CH-47Fs.
In February 2020, France confirmed interest in buying two Chinooks for its special forces, though it might lease the helicopters to test the aircraft in operations before purchasing. Those potential purchases would not come until after 2025, however.
The US Army had planned to stop building the Block II variant of the CH-47 in FY2020 in order to shift saved funds to its effort to develop new rotorcraft, called Future Vertical Lift. The plan has received pushback from Boeing and the US Congress as it might force earlier closure of the production line.