The US Defense Advanced Research Projects Agency (DARPA) flew a UH-60A Black Hawk, retrofitted with Sikorsky's Matrix technology, autonomously, without pilots on board for the first time.
DARPA's Aircrew Labor In-Cockpit Automation System (ALIAS) programme has flown the UH-60A autonomously before, but never without back-up pilots on board.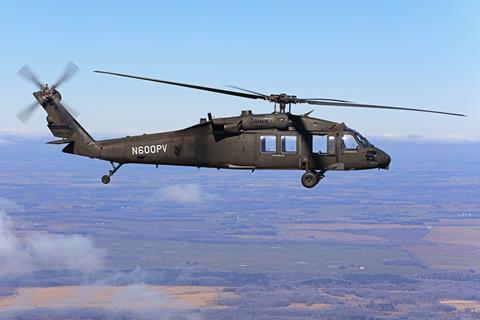 The first flight of the "optionally piloted vehicle" was over the US Army's Fort Campbell in Kentucky on 5 February, DARPA said on 8 February.
During the first flight, the helicopter started up autonomously, went through pre-flight checks, took off, performed simple forward flight and pedal turn manoeuvres and then landed, and powered down.
The second flight, on 7 February, which lasted 30 minutes, took place at about 4,000ft altitude and at a 110kt (204km/h) cruise speed. The flight simulated the UH-60A flying between buildings in downtown Manhattan. To simulate New York City's skyline, the Matrix computer was fed fake LiDAR data. Sensors, such as LiDAR, in actual flight would be used to help the helicopter avoid obstacles, such as buildings or terrain.
"The aircraft was essentially avoiding buildings in real time," says Igor Cherepinsky, director of Sikorsky Innovations. "Think about the operational need for that. Think of [US Army Future Vertical Lift] vehicles in urban environments doing rapid egress into areas they don't know, they've never seen before."
The US Army's Future Vertical Lift programme is developing two new rotorcraft: the Future Long Range Assault Aircraft, a replacement for the UH-60 utility helicopter, and the Future Attack Reconnaissance Aircraft, a replacement for the Bell OH-58D Kiowa Warrior, a retired scout helicopter. The service has talked about flying both helicopters low to the ground, in the radar shadow of hills and buildings, to avoid detection.
DARPA sees two general uses for Matrix: freeing pilots from flying to think about other tasks, such as mission management; and creating safety protections, such as automatic obstacle avoidance.
When it comes to emergency situations the quick reaction time of the Matrix system performs better than human pilots, Cherepinsky says. For example, losing an engine often requires a split-second decision from a pilot whether to attempt to land the aircraft – possibly a hard landing – or to try to gain forward airspeed to reduce the power requirements needed to keep the helicopter aloft.
"We happen to have a pretty good physics model running behind the scenes for this particular thing," says Cherepinsky. "When that happens, it knows exactly what to do. And, in our experiments it's not really a huge surprise that [Matrix] will beat the human being pretty much every time."
Retrofitting the Matrix system into most Black Hawks requires replacing the helicopter's mechanical controls with fly-by-wire controls. Removing mechanical hardware removes maintenance-heavy elements, reducing the helicopter's overall sustainment burden, says Cherepinsky. The fly-by-wire Matrix system also prevents pilots from attempting overly-aggressive flight maneovres that can stress and damage expensive parts, such as a main rotor blade, he adds.
The ALIAS programme is in its final phase, says Stuart Young, programme manager in DARPA's Tactical Technology Office.
"We are actively working with the army to transition the capabilities," he says, noting the service's interest in adding the capability to its UH-60 fleet. "We have interest in the ALIAS software, for example, on the [Lockheed Martin] F-16 with the [US] Air Force."
Fly-by-wire aircraft are easier to retrofit with the Matrix system, says Cherepinsky, noting the US Navy's Sikorsky CH-53K King Stallion heavy lift helicopter is also a candidate. The Matrix software could also be combined with autonomous dogfighting software being developed for US Air Force fighters by DARPA's Air Combat Evolution programme, adds Young.
Discussions are underway with the US Department of State to obtain permission to export the Matrix technology to foreign operators of the UH-60. Japan, which manufacturers a variant of the Black Hawk, the Mitsubishi H-60, is particularly interested, says Cherepinsky.
The US government owns some of the software developed under the ALIAS programme. However, Sikorsky, which started developing Matrix initially on its own using internal research and development funds, owns the core of the software. Matrix has an open application programming interface and Sikorsky is interested in licensing it out to third parties, says Cherepinsky.
The cost of adding Matrix to an aircraft would vary depending on the type and number of aircraft being upgraded at once. For instance, retrofitting a UH-60 with Matrix would at least cost $1 million per helicopter, though costs could be "way more than that", says Cherepinsky.
"We did the business case on this and it does make economic sense to outfit especially larger aircraft, like a Black Hawk or an F-16 or scratch-built aircraft," he says.
Going forward, the ALIAS programme plans additional flight envelope expansion tests, including flying the UH-60A with a sling load. By the end of March, DARPA plans to conduct the first flight of a fly-by-wire M-model Black Hawk using the Matrix system at Fort Eustis, Virginia.
DARPA plans to formally conclude the ALIAS programme at the end of fiscal year 2022.