MD Helicopters intends to upgrade its MD 530G Block II scout attack helicopter with an integrated weapons system made by Elbit Systems that would make the aircraft capable of carrying and firing Hellfire missiles.
The addition of the AGM-114 Hellfire semi-active laser-guided missile would give the MD 530G an anti-tank and anti-armour capability it does not currently have.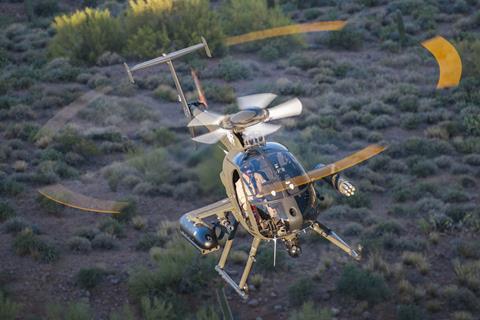 The Elbit Systems upgrade package for the MD 530G is to include a helmet display and tracking system, weapons management system and mission management system, says MD Helicopters.
The weapons management system would also enable the light helicopter to carry and launch the Advanced Precision Kill Weapon System laser-guided rocket, in addition to the Hellfire, says MD Helicopters.
"Critical weapons management functions, such as weapon activation and [helmet display and tracking system] operation, will be integrated into the cyclic grip and collective for both pilots," says the company.
The MD 530G's current standard configuration includes unguided rocket pods and mini-guns.
Competitor Boeing told FlightGlobal at the Dubai air show in November that it expects a renaissance in sales of its AH-6 Little Bird light-attack helicopter, stemming partly from difficulties a "competitor" is facing to gain Foreign Military Sales (FMS) certification to equip its helicopter with Hellfire missiles. The closest US competitor to the AH-6 is the MD 530 – both light helicopters are based on the Hughes OH-6 Cayuse.
"We are building Hellfire capability into the system that, with the additional testing and qualifications of the US [government], will meet FMS requirements should an authorised customer request such capability," says MD Helicopters.
The company anticipates live fire tests of the MD 530G equipped with Elbit System's integrated weapons system in 2020.
Updated: This article was updated on 11 December with an additional comment from MD Helicopters.