The US Army released for service its first Sikorsky UH-60V Black Hawk helicopter, a variant converted from the L model, on 29 September.
The UH-60V upgrade process replaces the helicopter's analogue displays with a glass cockpit made by Northrop Grumman, the service said on 1 October. Corpus Christi Army Depot in Texas completed the first aircraft.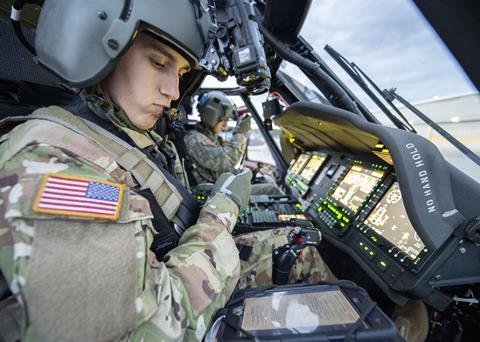 The US Army plans to bring the capabilities of the older UH-60L into closer alignment with its most modern example of the helicopter, the UH-60M. It plans to upgrade 760 examples of the "Lima" model to the "Victor" configuration.
"Cockpit similarity with the UH-60M enables a single army Black Hawk pilot training programme," says the Pentagon's Director Operational Test and Evaluation (DOT&E) office in its 2019 annual report. "Once qualified on the UH-60M, pilots can transition to the UH-60V with minimal additional instruction."
Corpus Christi Army Depot also claims re-equipping ageing Black Hawks with glass cockpits, instead of buying new aircraft, saves about $9 million per helicopter. The upgrade includes a 10-year service life extension for each airframe.
The digital cockpit has a modular open systems architecture, which should make it easier to upgrade with new capabilities, says Northrop. And, the glass cockpit supports navigating using Global Air Traffic Management requirements, a form of satellite-based flight guidance and air traffic control in civilian airspace.