Honeywell started testing an upgraded version of its T55 turboshaft for the Boeing CH-47 Chinook in November at its Phoenix facilities.
The US Army and Honeywell plan to test the T55-714C engine's capabilities and integration into the Chinook over a two-year period, the manufacturer said on 1 December. The company and the service signed a Cooperative Research and Development Agreement in 2020 to test the engine on the tandem rotor cargo helicopter.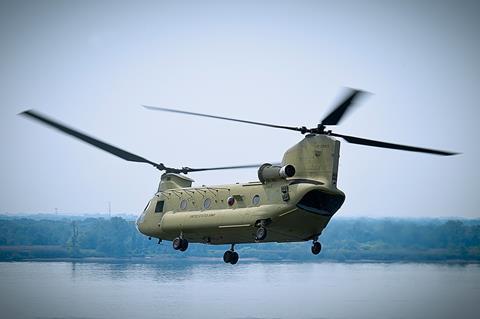 So far, Honeywell has conducted a maximum continuous power test on the engine and additional testing at "significantly higher power levels" is planned, it says.
The -714C engine generates 6,000hp (4,474kW), which is 23% more power than the current T55. It also consumes 8% less fuel.
"Because the engine is based closely on the T55 version currently in use, minimal airframe modifications are required – the same intake, exhaust and engine airframe mounts are used," says Honeywell. "This design provides the US Army with a major engine improvement without the need to retrain their maintenance and operational staff or undertake major aircraft changes."
Honeywell's emphasis on ease of installation and maintenance appear targeted at its competition for re-engining the CH-47: the GE Aviation T408. The Chinook would require some modification for the T408 to be integrated.
GE's T408 produces 7,500hp, or about 56% more power than the current T55. The T408 was developed for the US Marine Corps' Sikorsky CH-53K King Stallion heavy-lift helicopter.
The US Army also conducted a Cooperative Research and Development Agreement effort with GE to explore installation of the T408 in the Chinook. The service concluded in June that integration was possible, but did not announce any programme of record.
The T55 has powered US Army Chinooks since 1961. That early version delivered 2,220hp, about one third the power of today's engine.
The US Army operates 513 examples of the CH-47, with an average age of about 31.9 years, according to Cirium fleets data. There are 789 Chinooks in service worldwide.
Correction: Article changed on 10 December to note that the T55-714C has not been tested on the CH-47 yet. So far, it has been tested outside the helicopter