The Japanese military flew the Bell Boeing V-22 Osprey for the first time at Kisarazu Air Field on 6 November.
The Japan Ground Self-Defence Force is the only foreign customer of the V-22 and thus the first military service outside of the USA to operate the tiltrotor.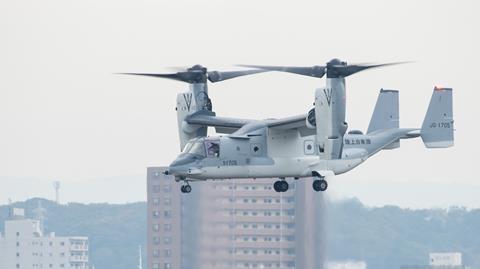 Tokyo ordered 17 examples of the aircraft in 2015. It received its first pair of V-22s via cargo ship in May.
In July, the US Department of State also cleared Indonesia to buy eight V-22s, though it is not clear if the deal will ultimately go through.
Current operators of the V-22 include the US Marine Corps (USMC), US Navy and US Air Force.
Japan plans to modify its two Izumo-class helicopter cruisers, the Izumo and Kaga, into aircraft carriers to operate the Lockheed Martin F-35B stealth fighter. The V-22 could play a support role to those carriers in that it is capable of carrying the F-35's Pratt & Whitney F135 turbofan in its cargo hold, a capability useful for an at-sea engine replacement.
Japan's V-22s might also be used for carrying troops on amphibious assaults, a mission for which the USMC uses the Osprey.