Kaman plans to start ground and flight testing its K-Max Unmanned Aerial System, an optionally piloted variant of its heavy-lift helicopter, in the first half of 2021.
In addition, Kaman continues to work on updates for the unmanned K-Max variant operated by the US Marine Corps (USMC).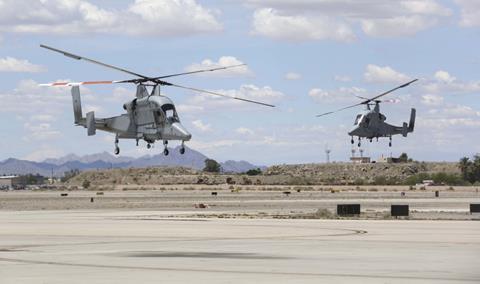 The manned version of the K-Max is a single-engined helicopter with two counter-rotating, intermeshing rotors that can lift 2,720kg (6,000lb) as a sling-load. It is often used for lifting applications in remote locations, such as dropping water on wildfires, moving timber or hoisting power line towers.
An earlier unmanned variant of the K-Max, which had an autonomous flight control system made by Sikorsky, was used by the USMC in Afghanistan in 2011 for cargo resupply.
"Over the 33-month deployment, two K-Max unmanned systems delivered 4.5 million pounds of cargo to Marines at remote outposts in the combat zone," says Kaman. "By taking to the skies and operating exclusively at night, K-Max operators negated the need for the equivalent of 900 ground convoy vehicles, thereby eliminating thousands of exposure hours to [improvised explosive devices]."
Kaman says it also wants the commercial unmanned K-Max to tackle dangerous missions.
"When the job is high, hot, dirty or dangerous, the K-Max will be ready to fight fires, deliver life-saving supplies, or perform the mundane operations that call for an unmanned, heavy lift helicopter," says the company. "Wildfires do not rest at night, and neither will the unmanned K-Max."
The first flight of the unmanned K-Max appears to be delayed from Kaman's former plan to fly the helicopter in July or August 2020.
Kaman also says it has received a new order for the K-Max, with delivery later this quarter; the company shipped two examples in late 2020, it says.
In January 2020, Kaman said it had received multiple firm orders for autonomous K-Max Unmanned Aerial System kits from Helicopter Express and Swanson Group Aviation.
Both companies operate the manned variant of the helicopter and had ordered the retrofit kits to turn their existing assets into optionally piloted helicopters.