The US Marine Corps (USMC) in November finished testing the Bell AH-1Z Viper's ability to launch AGM-179 Joint Air-to-Ground Missiles (JAGMs) at maritime targets – a capability the service sees as having potential to prevent enemy ships from transiting littoral zones.
"AH-1Z pilots tested JAGM off the coast of Florida, hitting moving target boats up to 3.8nm [7km] away, using both laser and radar sensors for guidance," the service said on 6 December. "All of the launches were successful under planned test conditions."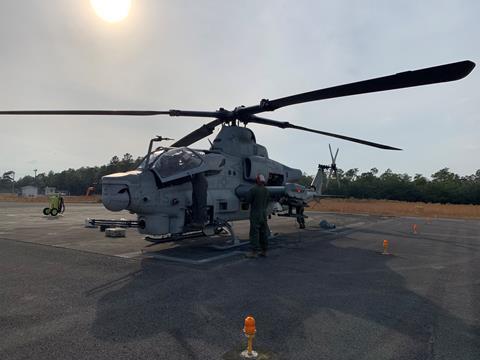 The service envisions Vipers as fighting in coordination with USMC forces deployed at expeditionary bases near the front lines.
The AH-1Z operational tests follow hardware and software upgrades made by the US Army to its Boeing AH-64E Apache in 2020, which allow that attack helicopter to target ships using its mast-mounted APG-78 Longbow fire control radar.
Both capabilities would help the Department of Defense's premier attack helicopters – which previously focused on land-based missions such as anti-tank operations – play a role in naval warfare. Those capabilities would be useful for fights on and around small islands off China's coast.
The USMC says the recent JAGM tests included multiple live-fire launches of the missile against "realistic operational threats".
JAGM is intended to replace the US Army's and USMC's Lockheed Martin AGM-114 Hellfire missile. The new weapon is guided to targets with a semi‑active laser and millimetre-wave radar.
That dual-seeker configuration helps the missile navigate through smoke, dust or vegetation. The millimetre-wave radar also allows JAGM to find targets autonomously.
"The addition of [millimetre-wave radar] capability to the seeker allows a true fire-and-forget capability and increased flexibility for the operator on the battlefield," says Major Chuck Smith, the USMC H-1 department head at Naval Air Station Patuxent River, Maryland.
JAGM has already reached initial operational capability on the US Army's AH-64E and is anticipated to reach that milestone on the USMC's AH-1Z in 2022. The USMC expects JAGM to head into full-rate production in 2022.