Engineers from Naval Air Systems Command (NAVAIR) helped Sikorsky solve the CH-53K King Stallion heavy-lift helicopter's gas re-ingestion problem.
The US Marine Corps (USMC) helicopter gets its heavy lifting capacity from three General Electric T-408 engines, rated at 7,500shp (5,520kW) each. However, Sikorsky has struggled to integrate the big engines, with exhaust gas re-ingestion being the "most troublesome" issue, NAVAIR says on 17 December.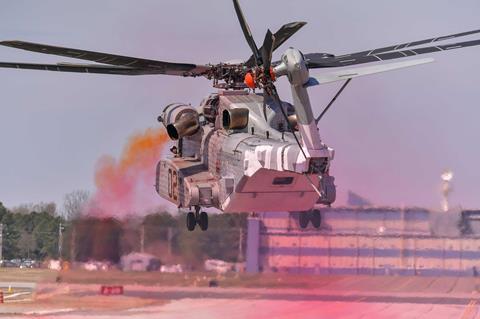 "[Exhaust gas re-ingestion] occurs when the hot engine gasses are ingested back into the system," says Debbie Cleavenger, the H-53 helicopter programme office's chief engineer. "It can cause anything from increased life-cycle costs, poor engine performance and degradation, time-on-wing decreases, engine overheating and even engine stalls."
To solve the problem, NAVAIR put together a "tiger team" of government and Sikorsky engineers starting in April 2019 that had expertise in a wide variety of fields including engine performance, computational fluid dynamics, modeling and simulation, materials, structures, logistics, systems safety, reliability and maintainability, flight test, and fire protection and survivability, says NAVAIR. The team ran more than 30 tests and evaluated 135 potential different design changes.
"The systems constraints were significant," says Cleavenger. "One change impacted multiple systems."
After a design change was shown to redirect exhaust in simulations and to solve the re-ingestion issue, a retrofit was manufactured and a series of test flights were done to collect data to validate the model. NAVAIR concluded in December 2019 that the proposed fix would solve the problem.
The CH-53K is an upgraded version of the CH-53E Super Stallion, which is currently the USMC's heavy-lift helicopter. The rotorcraft is used to transport heavy weapons, equipment, supplies and troops during combat assault missions.
The CH-53K's GE T-408 engines provide 57% more power and 18% less fuel burn than the predecessor GE T-64 engines. That translates to the ability to carry a 12,200kg (27,000lb) external load over 110nm (204km) – almost three times the sling load of the CH-53E, according to General Electric.
The USMC has said it plans to buy 200 CH-53K King Stallions as its programme of record to replace the CH-53E. However, issues with the helicopter, including other mechanical and structural problems, have put the programme in doubt as the US Congress is reportedly considering buying fewer examples of the aircraft.