The US Department of Defense (DoD) has granted a contract to Sea Machines Robotics to develop a prototype autonomous ocean barge that would serve as a floating Forward Arming and Refueling Point (FARP) for rotorcraft.
Bell is advising the FARP project, Sea Machines said on 5 October. Bell builds several rotorcraft for the US Marine Corps (USMC), including the Bell Boeing MV-22B Osprey tiltrotor, AH-1Z Viper attack helicopter and UH-1Y utility helicopter. Typically, those aircraft operate from small aircraft carriers, called amphibious assault ships, or land bases.
A live conceptual demonstration of a prototype is scheduled for the fourth quarter of 2020 in Washington state. Follow-up demonstrations would test Sea Machines' ship control equipment, called the SM300. That command and control system can be retrofitted to autonomously or remotely pilot a variety of ships or small boats, the company says.
The contract was granted by the Pentagon's Defense Innovation Unit and is a multi-year Other Transaction (OTA) agreement of an undisclosed amount. OTAs are a type of government contract used increasingly by the DoD for quickly prototyping new concepts. The agreements have fewer regulations than conventional acquisition processes.
The prototype floating FARP would be based on commercial ocean-service barges. The barge would be self-propelled and contain various sensors, positioning communications and refuelling equipment, says Sea Machines. "Under this [OTA] agreement, Sea Machines will engineer, build and demonstrate ready-to-deploy system kits that enable autonomous, self-propelled operation of opportunistically available barges to land and replenish military aircraft," says the company.
In addition to Bell, Sea Machines is partnered with tugboat services company Foss Maritime and navy ship builder Huntington Ingalls.
"Foss will provide naval architecture, support engineering and operations management to outfit a remotely commanded deck barge to land helicopters and host a scaled fuelling station for aircraft, surface vessels and shore replenishment," says Sea Machines. "Using the SM300, shoreside operators will have remote situational awareness and will be able to demonstrate the capabilities of remote command and control of the vessel, her operating systems and flight deck."
The FARP barge project is part of the DoD's Resilient Expeditionary Agile Littoral Logistics (REALL) Joint Capability Technology Demonstration project . This is a joint effort between US Central Command, US Transportation Command, US Marine Corps Warfighting Laboratory, Naval Facilities Engineering and Expeditionary Warfare Center, Army Engineer Research and Development Center, and the Naval Aviation Warfare Center at Lakehurst.
It is aimed at developing retrofit kits to turn ships and barges into fuel and logistics nodes in littoral waters, which are shallow regions near shorelines. US Transportation Command, which is responsible for DoD logistics, says in a project summary posted online that it wants "a robust sea-based logistics platform to execute fuel and refuel operations to sustain the fight in anti-access/area-denial environments". Anti-access/area-denial areas are typically defined as regions where adversaries have large numbers of missiles present, intended to deter the USA and allies from entering.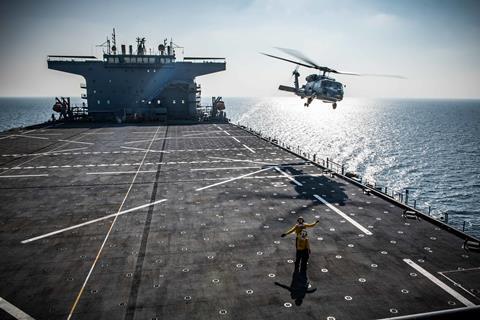 The FARP floating platform fits into a larger concept of warfare being developed by the US Air Force intended to dodge China's long-range ballistic and cruise missiles. That concept, called Agile Combat Employment, envisions aircraft constantly moving between airstrips in the western Pacific Ocean, sometimes being refuelled and rearmed at temporary FARP stations on remote islands. Given the long distances between potential conflict zones in the region, roving autonomous FARP barges could serve a similar purpose for short-range rotorcraft, not only those of the USMC, but also those of the US Army and US Navy (USN).
REALL platforms could also be used for refuelling and resupplying aircraft engaged in counter-insurgency and humanitarian missions, the USN said in July. "The resulting effort will reduce dependence on traditional, expensive, high-value naval assets for logistics so they can perform a variety of high-end warfighting missions," the service said.
In July, the USN demonstrated the ability to land a Sikorsky MH-60M Black Hawk helicopter on a floating platform called an Improved Navy Lighterage System Roll-on/Roll-off Discharge Facility. That platform was originally designed as a staging and disembarking area for vehicles rolling off naval cargo ships.
Hamstrung by the price of aircraft carriers, which can vary from $3 billion to more than $10 billion apiece, the USN has been running experiments in recent years to develop ways to cheaply retrofit commercial ships into floating rotorcraft-landing platforms.
In 2017, the service commissioned Lewis B Puller, a commercial Alaska-class crude oil carrier retrofitted with a landing deck, converting it to what the USN calls an expeditionary sea base. These retrofitted landing platforms lack the speed, armour and defences of purpose-built navy ships, so the vessels are often used to stage special-operations missions against low-tech adversaries, such as terrorists or insurgents.