Tail cracks found on the majority of the Royal Canadian Air Force's (RCAF's) Sikorsky CH-148 Cyclone helicopter fleet were caused by in-flight structural loads on electronic support measures and satellite communication antenna mounts.
The RCAF found cracks in the tail section of one of its Cyclones last November during a routine maintenance inspection. Additional inspections found cracks in 21 out of 23 aircraft in the fleet. The service removed affected CH-148s from flight service until fixed.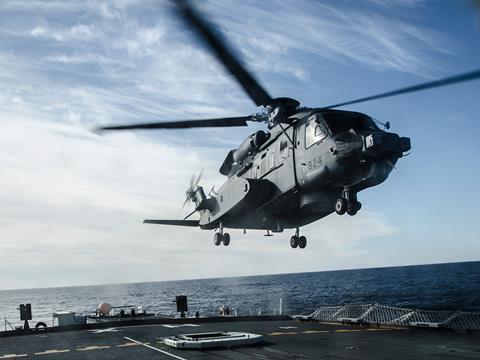 Sikorsky has developed a short-term solution repairing the damage, the Canadian Department of National Defence (DND) said on 31 January. The RCAF has finished repairs on 11 helicopters, with work underway on another four aircraft as of 28 January.
Each helicopter requires a unique fix using "standard aircraft metal working techniques", says the DND.
"Based on the repairs made to date, the RCAF is able to force generate sufficient aircraft for both expeditionary and domestic operations, including the Royal Canadian Navy deployments in late January (with HMCS Calgary and HMCS Winnipeg) and the helicopter air detachment currently embarked on HMCS Montreal for Operation Reassurance," says the DND.
Sikorsky is continuing to look at the problem and is working on a permanent fix.
"We expect further information on the longer-term solution in the next month or so," says the DND. "In the meantime, there is no immediate safety hazard, and we have complete confidence in the immediate solution being implemented."
Ottawa notes that the cracked section of the tail is separate from the helicopter's hinge and no cracking was found on the hinge or locking mechanism of the aircraft.
In December, Sikorsky told FlightGlobal that its civilian S-92A helicopter – upon which the CH-148 is based – was unaffected by the cracking issue.
The S-92A is a twin-engined medium-lift helicopter that is used widely in the oil and gas industry. The CH-148 is used mostly for anti-submarine and anti-surface warfare, as well as maritime search and rescue, and overland utility missions. The RCAF is buying 28 examples of the Cyclone, with the final delivery to be made this year.