After original US Air Force (USAF) requirements for the HH-60W Jolly Green II were overtaken by new threats in less than a decade – even before the first example of the rotorcraft was delivered – manufacturer Sikorsky is aiming to update the service's Combat Rescue Helicopter on a rolling basis.
Sikorsky on 17 February said that HH-60W requirements written in 2012 and 2013 have since been overtaken by new threats – presumably weapons such as surface-to-air missiles fielded by Russia and China.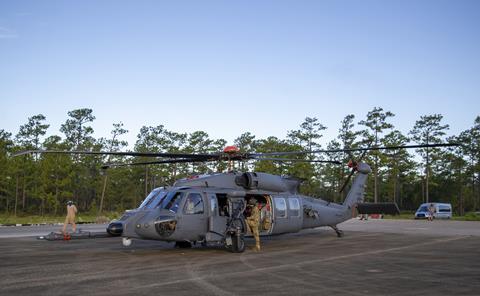 The company believes it can stay ahead of new threats to the HH-60W by using an indefinite delivery/indefinite quantity (ID/IQ) contract, announced by the USAF in a Justification and Approval notice posted online on 11 February. A Justification and Approval is needed to forgo a formal bidding competition. The USAF says it needs to sidestep a competition in order to quickly integrate new capabilities into the HH-60W.
The service wants the first modification done in fiscal year 2021. The ID/IQ contract would have a five-year ordering period with an estimated ceiling of $981 million. Capabilities would be integrated onto the USAF's HH-60W Jolly Green II fleet over the next seven years.
"Given the highly integrated nature of the [Combat Rescue Helicopter's] technical architecture, each modification will require a combination of hardware and software upgrades," says the service. "Capability upgrades will encompass, but will not be limited to, avionics (both hardware and software), structures, mandates, deficiency reports, diminishing manufacturing sources and training systems."
Additional details about what new capabilities are planned for the HH-60W fleet were redacted from the Justification and Approval notice. Sikorsky also declines to detail the upgrades, other than to say it intends to "improve some sensors" and "survivability features".
Sikorsky does note, however, that it has already incorporated some upgrades to the HH-60W via another contract since August 2019. Those include the removal of satellite communications and replacement with Link 16, as well as the removal of the direction finder component and replacement with an upgraded GPS system.
Sikorsky says the flexibility of the ID/IQ contract ought to allow the USAF to request and receive new capabilities faster, without the long lead time of typical procurement contracts.
"I think it's a very good and sound strategy to have something in place that allows you to avoid the administrative time associated with the one-off requirements," says Sikorsky's Army & Air Force Systems vice-president Dana Fiatarone. "You cut out, in some instances, years due to an acquisition process by putting an ID/IQ in place to tackle some of these upgrades that you're going to need."
The helicopter's open systems architecture should also make it easier to add new components, he adds.
The HH-60W is an enhanced version of the US Army's UH-60M Black Hawk. The variant has additional fuel tanks, giving it an unrefuelled 195nm (361km) combat radius. An aerial refuelling boom allows the helicopter to fly farther. It also comes with countermeasures to protect against surface-to-air missiles, including digital radar warning receivers, a laser warning system and a missile and hostile-fire warning system.
Sikorsky has put 1,000h of flight time on the HH-60W fleet, it says. The company has built all nine developmental aircraft – five system-development test aircraft and four engineering manufacturing and development aircraft – and delivered eight to the USAF. The company has started building the first production example of the HH-60W and plans to deliver it in the second quarter of 2021.
Sikorsky currently has 22 aircraft on contract with the USAF. The service's Combat Rescue Helicopter programme of record calls for 113 HH-60Ws to replace its ageing fleet of HH-60G Pave Hawks. The Pave Hawks have been flown by the USAF for nearly three decades and many are far past their expected lifespan.
Update: Article changed to include additional information from Sikorsky on recent upgrades to the HH-60W