The US Department of State has approved a potential Foreign Military Sales (FMS) deal for the Royal Australian Navy (RAN) of 12 additional Sikorsky MH-60R Seahawk submarine-hunting helicopters for an estimated $985 million.
The approval came about three weeks after a security pact was signed between Australia, the UK and the USA (known as AUKUS) that included an agreement to supply Canberra with at least eight nuclear-powered submarines. The AUKUS pact did not mention the acquisition of additional MH-60Rs, but combined with nuclear-powered submarines the helicopters would be a boost to the country's ability to find, track and destroy enemy submarines, in particular those of the Chinese navy.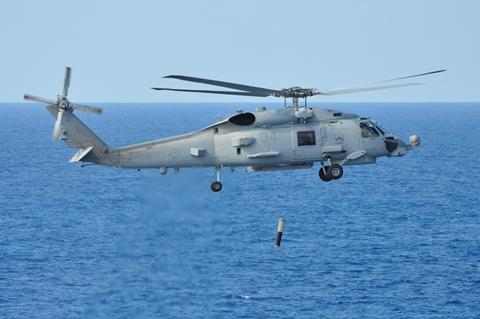 The RAN already operates a young fleet of 24 examples of the MH-60R that it acquired between 2013 and 2016. Those helicopters have an average age of 6.2 years, according to Cirium fleets data.
The US Defense Security Cooperation Agency (DSCA) disclosed the possible sale to Australia on 8 October, noting that the country is one of the USA's most important allies in the western Pacific Ocean. It adds that the helicopters will be used by the RAN as "a deterrent to regional threats and to strengthen its homeland defence".
"The strategic location of this political and economic power contributes significantly to ensuring peace and economic stability in the region," the agency says. "This proposed sale will improve Australia's capability to perform anti-surface and anti-submarine warfare missions along with the ability to perform secondary missions including vertical replenishment, search and rescue, and communications relay."
The RAN flies its current Seahawk fleet from the back of its Anzac-class frigates and Hobart-class air warfare destroyers. It is not clear where it intends to base the additional MH-60Rs.
The helicopters would come with 30 GE Aviation T700-401C turboshaft engines (24 installed, six spares), 12 APS-153(V) multi-mode radars, 12 AAS-44C(V) multi-spectral targeting systems, 12 GAU-61 digital rocket launchers, 12 airborne low frequency sonars, 24 M299 missile launchers and 12 GAU-21 machine guns, among other subsystems and spare parts.
The RAN's current fleet of MH-60Rs are armed with Lockheed Martin AGM-114 Hellfire air-to-surface missiles and the Mark 54 anti-submarine torpedo.
The $985 million price tag for the possible FMS deal includes all options and so is the highest estimate for the package, says the DSCA. The final dollar amount will be lower depending on what is ordered by the RAN.