Helicopter maker Erickson is exploring "strategic alternatives" for the purpose of expanding its helicopter operations, manufacturing and MRO divisions.
The company has retained investment bank Houlihan Lokey as part of the effort, it said on 6 August. Erickson does not specify which "strategic alternatives" it is pursuing, but firms sometimes use that term to signal an interest in selling assets or securing new investment.
The helicopter manufacturer did not immediately respond to a request for comment.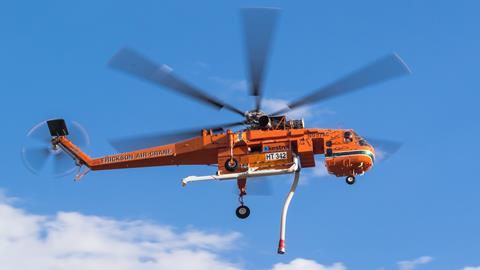 Erickson manufactures the S-64, a commercial variant of the 1960s-era Sikorsky CH-54 Tarhe, a twin-engined heavy-lift helicopter built for the US Army. The S-64, which lacks a passenger cabin, is designed to lift special loads – items such as shipping containers and water tanks.
"Our aim is to upgrade Erickson's great assets, including technology advances in the S-64 Super Air Crane, and expand our capabilities in MRO," says Doug Kitani, chief executive of Erickson. "A new strategic partner will complement our strengths, propel Erickson to the next level, and position the company, with its legacy and expertise, as the first-choice leader in the most-demanding air operations and OEM-level MRO support."
The company purchased the intellectual property of the S-64 from Sikorsky in 1992. It produces a few of the helicopters yearly, including new-builds and re-manufactured legacy CH-54 airframes, at its facilities in Medford, Oregon.
In 2020, Erickson signed a development agreement to integrate its S-64 with Sikorsky's Matrix autonomous flight control software. As part of that effort, the upgraded heavy lift helicopter – dubbed S-64+ – would have its mechanical flight controls removed and replaced with fly-by-wire controls.
The S-64+ would come equipped with the Matrix system's sense-and-avoid abilities. That might allow the rotorcraft to conduct firefighting water drops at night and in low-visibility situations, such as when a pilot's sight is clouded by smoke, the company has said. Erickson is also pitching the S-64+ to the US Department of Defense as a training and logistics missions complement to the US Army's fleet of Boeing CH-47 Chinooks and the US Marine Corps' Sikorsky CH-53 heavy-lift helicopters.
In addition to selling and providing MRO services for the S-64 Air Crane, Erickson operates 20 examples of the type. Those helicopters perform firefighting, power line tower construction, timber harvesting and heavy payload lift for the oil and gas industry.
Last September, the company purchased the type certificates for the model 214ST and B/B1 helicopters from Bell. Additionally, Erickson provides MRO services for a number of additional rotorcraft types, including the Airbus Helicopters H225 Super Puma, Bell AH-1 and Bell UH-1, and the Sikorsky CH-53 and UH-60 Black Hawk.