The Sikorsky-Boeing joint team behind the SB-1 Defiant, a co-axial helicopter with a pusher propeller, believes the rotorcraft demonstrator can go slightly faster.
The joint development team is continuing envelope expansion flight tests with their demonstrator aircraft despite having already submitted a bid, with a production concept called Defiant X, for the US Army's Future Long Range Assault Aircraft (FLRAA) programme. FLRAA is the service's programme for replacing the Sikorsky UH-60 Black Hawk utility helicopter.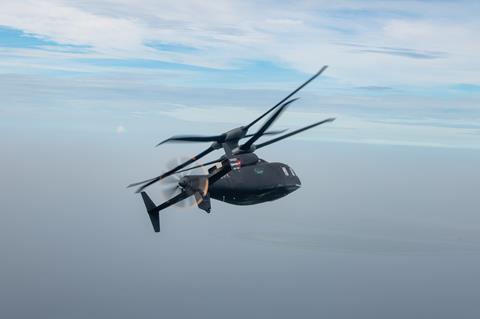 Additional flight tests are being used for risk reduction ahead of a possible production contract from the service, the companies said on 12 October. Sikorsky and Boeing are competing against Bell, which has an offering based on the V-280 Valor tiltrotor demonstrator.
The SB-1 Defiant has hit a top speed of 247kt (457km/h) while flying level in a test, but Bill Fell, FLRAA principal test pilot, says he believes the aircraft can go even faster.
"Even when we went 247kt, we had engine power available," he says.
Fell declines to say specifically how much faster he thinks the SB-1 can fly. "I think anything above 250[kt] is going to put a smile on my face when I get home," he says.
The proposed Defiant X is designed to be able to fly at 230kt in cruise, which is the US Army's requirement for FLRAA. Speeds near or above 250kt would be considered a dash speed.
Bell's V-280 demonstrator has reached 300kt in flight testing. Because the tiltrotor can fly horizontal on its wing it is more efficient and fast in cruise mode.
Against that speed, the Sikorsky-Boeing team has argued that the Defiant X would more manoeuvrable during its final approach to the landing zone. For example, the helicopter can reverse its propeller and go from 200kt to a hover in about 800m (2,640ft), says Fell.
"That's pretty significant to be able to stop that quickly and to be able to keep your eyes on the landing zone that entire time," he says.
The SB-1 has demonstrated the ability to fly sideways at 56kt, says Jay Macklin, Sikorsky business development director for Future Vertical Lift.
"If I'm in the landing zone and I have to rapidly reposition somewhere you have that capability," he says. "It doesn't matter what the wind environment is you still have that capability because the aircraft just doesn't care. You're able to manoeuvre somewhat freely."
Sikorsky and Boeing plan to demonstrate simulated missions to visiting delegations of US Army personnel in the coming months. Beyond high-speed flight testing, additional envelope expansion flight tests are planned, including testing the rotorcraft's angle of bank and load factor.