Sikorsky and the US Defense Advanced Research Projects Agency (DARPA) conducted an autonomous flight of a UH-60 Black Hawk under on-board piloted supervision in late 2020 in Stratford, Connecticut.
The helicopter, which Sikorsky calls an Optionally Piloted Vehicle Black Hawk, demonstrated autonomous take-off, landing and two simulated obstacle avoidance scenarios under the direction of a pilot using a tablet computer, the company said on 29 March. The exact date of the flight test was not disclosed.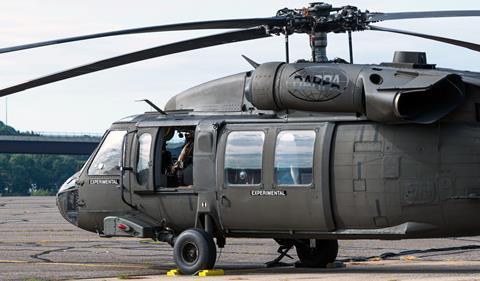 Sikorsky's autonomous flight control software is aimed at allowing a helicopter to be flown by two, one or zero pilots. The technology is also intended to fly the helicopter in day or night time, as well as in battlefields, congested airspace or degraded visual environments. Sikorsky says it wants the technology to free pilots from flight control tasks so that they can focus on other work.
"Developed under DARPA's Aircrew Labor In-cockpit Automation System and with the support of Sikorsky's Matrix technology, pilots can focus on saving lives or transporting cargo instead of the mechanics required for contemporary flight," says the company.
Sikorsky has demonstrated the ability to retrofit the oldest of US Army Black Hawks, the UH-60A, with its Matrix autonomous flight control equipment. That work required removing and replacing the helicopter's mechanical flight controls with fly-by-wire controls.
Ultimately, Sikorsky and DARPA want to use the flight control technology on the US Army's next-generation of helicopters.
"Our end goal is to transition this technology to help address emerging mission requirements, including those outlined in the US Army's Future Vertical Lift (FVL) programme," says Igor Cherepinsky, director of Sikorsky Innovations.
The US Army is developing two rotorcraft under the FVL umbrella: the Future Attack Reconnaissance Aircraft and Future Long Range Assault Aircraft.
Sikorsky has said it plans to fly a UH-60 completely autonomously, without pilots on-board, sometime in 2021. After that, the company aims to coordinate the flight of three autonomous helicopters to explore formation flying and communication protocols between aircraft.
This article was updated on 29 March to include additional information on the date and location of the test flight.