Sikorsky has been contracted by the US Navy (USN) to build nine more CH-53K King Stallion heavy-lift helicopters for the US Marine Corps (USMC).
The service awarded a contract to build the helicopters as part of production lot six, the US Department of Defense said on 31 January. Deliveries for the lot will begin in 2025, Sikorsky said on 3 February.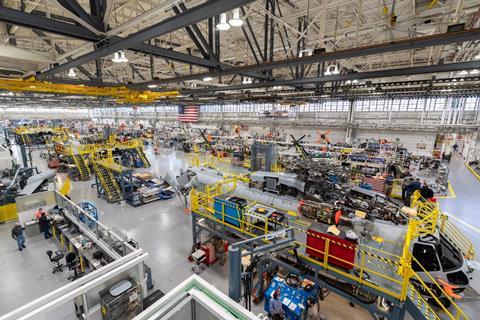 The lot six contract totals $853 million, with aircraft costing $94.7 million apiece. That is a slight decrease from lot five aircraft, which cost $97.6 million each.
The cost reduction came from the use of "advanced manufacturing techniques", Sikorsky says.
Sikorsky has seven CH-53K helicopters in the build phase at its factory in Stratford, Connecticut. It has 47 other aircraft in various stages of production.
The company has 44 helicopters under contract through lot six, with materials for 10 more aircraft under a long lead contract for lot seven.
The manufacturer has delivered five operational CH-53Ks to the USMC. It plans to deliver four additional aircraft this year.
The USN intends to replace the USMC's ageing fleet of CH-53E Super Stallions with the CH-53K. The USN has a 200-aircraft programme of record for the King Stallion, but the USMC indicated in 2020 that it may buy one-third fewer examples, freeing money for other priorities like anti-ship missiles.
The King Stallion would be used as a transport for troops and equipment, such as artillery or light armoured vehicles, during amphibious assaults. It is intended to operate from aircraft carriers and amphibious assault ships, and is capable of lifting 12,250kg (27,000lb) over a mission radius of 110nm (203km).
The highly-complex, triple-engined CH-53K comes with a substantial maintenance bill. Sikorsky says it is looking at ways to reduce that financial burden to the USMC with predictive logistics technologies, an integrated vehicle health management system and a performance-based logistics contract that it expects the USN to award this year.