Sikorsky has won a $471 million contract from the US Navy (USN) to build six production VH-92A presidential helicopters.
The helicopters are to be operated by the US Marine Corps (USMC) and are to replace the Sikorsky VH-3D, popularly known by its call sign of "Marine One" when the US president flies aboard.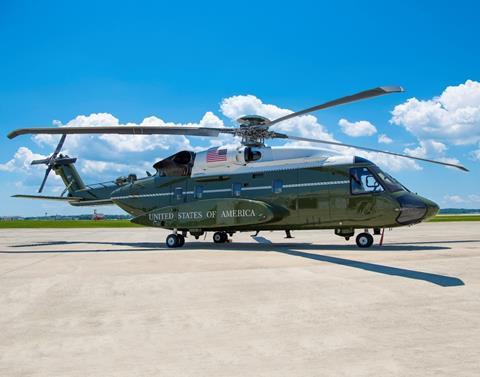 The Low Rate Initial Production Lot II (LRIP Lot II) deal was an option exercised as part of an earlier contract and will also provide for interim support of the aircraft, according to a US Department of Defense notice posted online 19 February. The USN plans to buy 23 examples of the VH-92A as part of its programme of record.
Sikorsky will deliver the six VH-92A helicopters in 2022 and 2023.
"The programme continues to progress on budget and within our planned acquisition timeline," says Colonel Eric Ropella, manager of the Presidential Helicopter Replacement Programme. "The award of LRIP Lot II reinforces the importance of this Marine Corps no-fail mission especially as we move into the next phase of government testing this year."
VH-92A test aircraft at Naval Air Station Patuxent River, Maryland have been test flown more than 1,000h, says Sikorsky. The company has transferred five VH-92A helicopters to the USN. The sixth example recently completed modification and is to be tested by the US government in the spring.
The VH-92A programme is expected to enter Initial Operational Test and Evaluation later this year, says Sikorsky.
The VH-92A is based on the civilian S-92, a twin-engined, medium-lift helicopter used for oil and gas transport, as well as search and rescue missions. The Royal Canadian Air Force operates a shipboard maritime variant of the helicopter, called the CH-148 Cyclone.