The US Army believes it is feasible to upgrade its fleet of Boeing CH-47 Chinooks with the GE Aviation T408 turboshaft engine.
That is the service's conclusion after seven months of flight testing the more powerful engine on the cargo helicopter. The US Army is scheduled to conduct the last flight demonstration of the CH-47 with the T408 on 26 May at Fort Eustis in Virginia, Roger Kuykendall, project manager of advanced turbine engines for the US Army, said on 30 April.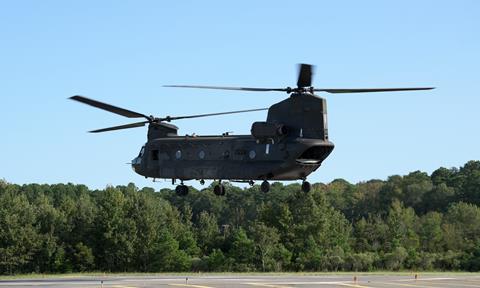 The US Army operates 510 examples of the CH-47 cargo helicopter, according to Cirium fleets data. Those helicopters are powered by two Honeywell T55 turboshafts, each producing 4,800hp (3,600kW) of power.
GE's T408 produces 7,500hp, or about 56% more power than the T55. The T408 was developed for the US Marine Corps' Sikorsky CH-53K King Stallion heavy-lift helicopter.
GE, Boeing and the US Army are demonstrating the integration of the T408 into the CH-47 under a Cooperative Research and Development Agreement (CRADA). The US Army does not have a programme of record to re-engine its fleet. The CRADA is being used as a form of market research to inform the service of likely costs should it become interested in upgrading the helicopters.
Flight demonstrations, which started in September 2020 and will soon end, have shown that the integration of a new engine into the CH-47 is possible, though there are difficulties, says Kuykendall.
"It goes without saying that integration is tricky," he says. "You just can't swap an engine out, and particularly one that's heavier and has more shaft horsepower."
Kuykendall notes that some modifications to the CH-47 were required. The demonstration helped educate the US Army on the potential costs of upgrading the fleet, he says.
In June 2020, current engine supplier Honeywell was also contracted to develop and demonstrate a more powerful version of its T55 for the CH-47 via a CRADA. That upgraded engine, dubbed the T55-714C, generates 6,000hp and uses 10% less fuel than the current T55, the company claims.
Though the T55-714C would generate less horsepower than the upstart GE T408, Honeywell argues that it would be easier to install as it would not require airframe changes. The US Army did not mention the status of the Honeywell demonstration effort.