Less than a year after receiving its first pair of brand-new Sikorsky HH-60W Combat Rescue Helicopters (CRH), the US Air Force (USAF) is planning to upgrade the type with new systems worth up to $981 million.
The service says the rotorcraft have been overtaken by new threats, according to a Justification and Approval for Other Than Full and Open Competition posted online on 11 February. That notice says the US government needs to contract with Sikorsky, without asking for competing bids, in order to quickly integrate the upgrades.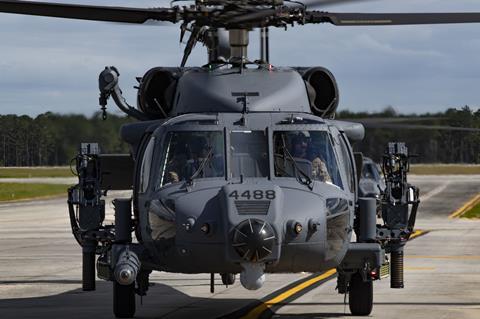 "During the last five years of [engineering manufacturing and development] execution, the original [Combat Rescue Helicopter] requirements baseline has evolved as a result of changes in threat conditions and evolving mission requirements," the USAF says. "The response to this operational need is the driver for the continuance of new capabilities development and integration into the [Combat Rescue Helicopter] baseline and subsequent field to each main operating base."
The service says the first modification must commence in fiscal year 2021. It envisions a five-year ordering period using an indefinite delivery, indefinite quantity contract with an estimated ceiling of $981 million. Capabilities would be integrated onto the USAF's HH-60W Jolly Green II fleet over the next seven years.
"Given the highly integrated nature of the CRH's technical architecture, each modification will require a combination of hardware and software upgrades," says the service. "Capability upgrades will encompass, but will not be limited to, avionics (both hardware and software), structures, mandates, deficiency reports, diminishing manufacturing sources and training systems."
Additional details about what new capabilities are planned for the HH-60W fleet were redacted in the Justification and Approval notice.
The HH-60W is an enhanced version of the US Army's UH-60M Black Hawk. The variant has additional fuel tanks, giving it an unrefuelled 195nm (361km) combat radius. An aerial refuelling boom allows the helicopter to fly even further. It also comes with countermeasures to protect against surface-to-air missiles, including digital radar warning receivers, a laser warning system and a missile and hostile fire warning system.
The service's Combat Rescue Helicopter programme of record calls for 113 HH-60Ws to replace its fleet of HH-60G Pave Hawks.