The US Air Force (USAF) received its first pair of Sikorsky HH-60W combat rescue helicopters at Moody AFB in Georgia on 5 November.
The helicopters were flown from the Sikorsky Training Academy in Stuart, Florida, by pilots from the 41st Rescue Squadron, the service said on 6 November.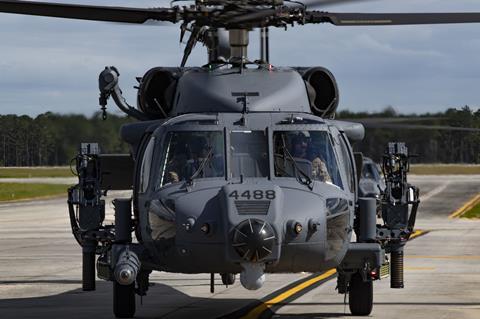 The HH-60W is an enhanced version of the US Army's UH-60M Black Hawk. The new variant has additional fuel tanks, giving it an unrefuelled 195nm (361km) combat radius. It also comes with technologies to protect against surface-to-air missiles, including digital radar warning receivers, laser warning system and a missile and hostile fire warning system.
"The primary mission of the HH-60W helicopter will be conducting day or night operations into hostile environments to recover isolated personnel during war," says the USAF. "The platform will also be tasked to perform military operations other than war, including civil search and rescue, medical evacuation, disaster response, humanitarian assistance, security cooperation and aviation advisory, NASA space-flight support, and rescue command and control."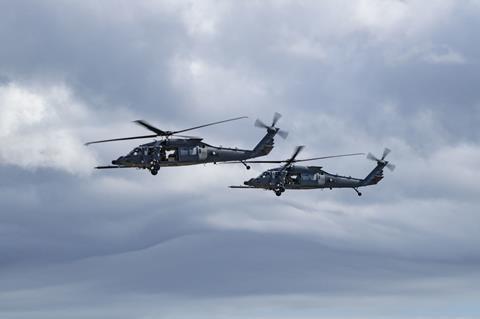 The HH-60W is dubbed the Jolly Green II. That name pays homage to Vietnam War-era HH-3E Jolly Green and HH-53 Super Jolly Green crews. Those pilots pioneered the practice of aerial combat rescue and earned the nickname Jolly Green Giant from the impression their helicopters would leave in rice paddys and grass fields after they lifted off.
The service's combat rescue helicopter programme of record calls for 113 HH-60Ws to replace its fleet of HH-60G Pave Hawks. The Pave Hawks have been flown by the USAF for more than 26 years and many are far past their expected life span. As new HH-60Ws are received, the service says it will gradually replace the older models.