The US Air Force (USAF) plans to launch an electric-vertical take-off-and-landing (eVTOL) aircraft development effort, called Agility Prime, at an online event on 27 April.
The service wants to boost the efforts of the nascent commercial eVTOL aircraft industry by funding the creation of technologies which also could be used for military purposes, it says on 14 April.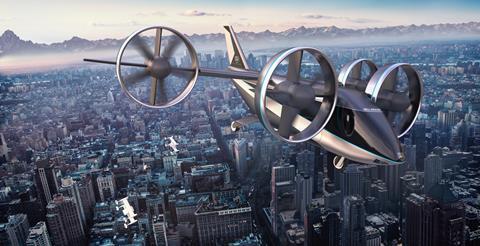 The effort is being spearheaded by Will Roper, assistant secretary of the USAF for acquisition, technology and logistics. "Now is the perfect time to make Jetsons cars real," he says.
Several US military branches have looked at electric-powered unmanned air vehicles (UAVs) as a means to resupply troops. The UAVs could offer the ability to autonomously and quickly move vital supplies, such as food, ammunition, fuel or medical supplies, to spread out troops without putting a pilot at risk of being shot down.
Commercial aerospace manufacturers, such as Airbus, Bell and Embraer, have eyed eVTOLs as a means to quickly transport civilian passengers around cities. For instance, Bell is developing an eVTOL aircraft called the Nexus 4EX that could fly up to 52nm (97km) while carrying four to five passengers, plus a pilot. Eventually, the companies want eVTOL taxis to be pilotless, operating via autonomous flight control software.
The Agility Prime online event will include a variety of online broadcasts of speakers, panels and discussions of eVTOL technology, US government development funding and regulatory standards.
The USAF says it intends to speed the development of eVTOL aircraft by funding prototyping efforts that look at a variety of technologies and test five key hypothesis about the maintenance, safety, affordability, acoustics and infrastructure needs of the type.
The USAF believes eVTOLs could provide:
1) Lower maintenance cost and time, through mechanical simplicity.
2) Improved safety and declining personnel demands, using autonomy.
3) Affordable quantity, based on potential mass production.
4) Improved acoustics, employing distributed propulsion.
5) Greater flexibility and reduced infrastructure needs, with runway independence.
The service believes it can take away some of the long-term risk associated with developing eVTOLs for a commercial air taxi market that does not yet exist by funding the effort in the short-term to serve US government needs, including military cargo transport, disaster relief, medical evacuation, firefighting, installation security, border security, search and rescue, and humanitarian operations
"Near-term government use-cases could occur prior to civil certification and might provide revenue and data to help accelerate even broader adoption and technology development," says the USAF.
The USAF is soliciting information on potential aircraft for a series of demonstrations to test its hypothesis about eVTOLs. Ultimately, it wants an eVTOL achieving operational capability by FY2023.
The USAF is looking for a vehicle that can carry three to eight personnel; has a range of greater than 100mi; can fly at a speed greater than 100mph (160kmh); has a flight endurance of more than 60min and will achieve first full-scale flight prior to 17 December 2020.