The US Army has granted Bell and a Sikorsky-Boeing team contracts to speed up the time it ought to take to complete preliminary design reviews for major subsystems and conceptual weapon systems on their Future Long Range Assault Aircraft (FRLAA) proposals.
Both teams were given Competitive Demonstration and Risk Reduction (CD&RR) Phase II contracts, according to an online posting issued on 30 March. Bell received a $293 million contract and the Sikorsky-Boeing team received $284 million.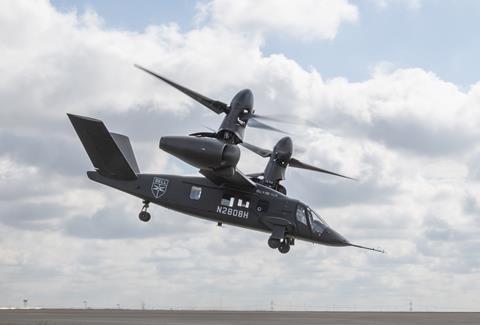 FLRAA is intended as a utility rotorcraft replacement of the US Army's fleet of Sikorsky UH-60 Black Hawk helicopters. For its part, Bell plans to offer a refined version of the V-280 Valor tiltrotor demonstrator and the Sikorsky-Boeing team plans to offer a refined version of the SB-1 Defiant, a co-axial helicopter with a pusher propeller. Both rotorcraft were developed under earlier technology demonstration contracts granted by the US Army.
The CD&RR Phase II contract requires the two FLRAA competitors to develop major subsystems and conceptual weapon systems in parallel with their work on the larger aircraft. In particular, the US Army says it wants preliminary analysis of requirements for US Special Operations Command, medical evacuation missions and defence exportability features in FLRAA. The particular major subsystems as well as the type of weapons the service wants designed for FLRAA were not disclosed.
"This strategy will enable the winning offeror to complete both air vehicle and weapons system preliminary design reviews in less than a year after the programmatic contract award, thus advancing the schedule to an earlier Milestone B decision," says the service. "An earlier Milestone B decision will provide more time for detailed design, building, and testing of prototype air vehicles."
Milestone B is a design review that comes at the end of the Department of Defense's technology maturation and risk reduction phase. It is intended as a point in the process where a military service branch would recommend an aircraft design to begin the engineering and manufacturing development phase.
The US Army had previously said it expected to reach preliminary design review in the second quarter of fiscal year 2023. The FLRAA competitors were expected to fly for the first time by the third quarter of FY2024. The service wanted its first unit equipped with the rotorcraft by FY2030.