The US Army is looking for manufacturers to put forward potential Long Range Precision Munition candidates for a "Shoot-Off" demonstration planned for the fourth quarter of fiscal year 2022.
The service intends to replace the air-to-ground Lockheed Martin AGM-114 Hellfire missile, carried aboard its Boeing AH-64 Apache attack helicopter, with the Long Range Precision Munition. Before it decides on that munition in the short-term it is planning to field a limited number of the Rafael Advanced Defense Systems' Spike non-line-of-sight (NLOS) missile, a weapon with a 17.3nm (32km) range.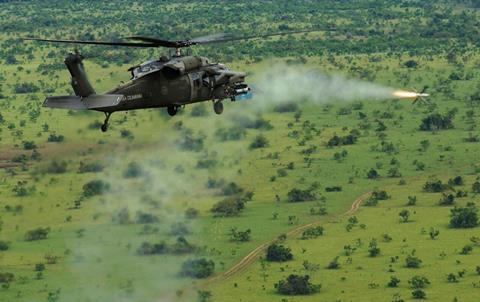 The US Army wants longer range air-launched weapons to keep its rotorcraft out of the reach of adversaries' surface-to-air weapons, such as the Pantsir-S1 missile and gun battery. The Hellfire's range is limited to 4.3nm. The Long Range Precision Munition would also be carried aboard the forthcoming Future Attack Reconnaissance Aircraft (FARA).
The service does not say what its range requirement is for the Long Range Precision Munition, though presumably it is equal to or greater than the Spike NLOS' 17.3nm. The shoot-off is partly intended to discover what is possible.
"It is the Army's intent to conduct this demonstration to inform the [Long Range Precision Munition] capabilities development and to inform the selection of a single or multiple vendors to build, integrate, test, and/or qualify on Army aviation platforms," the service says in a request for information posted online on 2 February.
The US Army wants a technical information paper from prospective vendors that outlines their weapon's chosen concept and capabilities.
"Prior to the demonstration, the government will conduct a design maturity assessment based on the [technical information paper], digital simulation results, and industry day meetings to determine current state and growth potential and whether the vendor's concept will be ready to demonstrate capabilities at the shoot-off," says the service.
The US Army plans to use data from the demonstrations to award a single or multiple prototype contracts using Other Transaction Authority agreements, a sort of government contracting mechanism favoured in recent years by the Department of Defense due to its fewer regulations. After a prototyping competition the service says it might grant a production and fielding contract for its preferred weapon.
The US Army wants the Long Range Precision Munition to be ready for FARA, which is expected to be fielded to first units in 2028.
"A vendor's munition solution must be a mature design, clearly allowing support to Future Attack Reconnaissance Aircraft integration and demonstration in FY2026," the service says.