The US Army is buying $3.42 billion worth of General Dynamics Hydra-70 rockets.
The number of rockets in the deal was not disclosed, but all of the munitions are estimated to be delivered by September 2026, according to an online US Department of Defense notice posted on 29 May.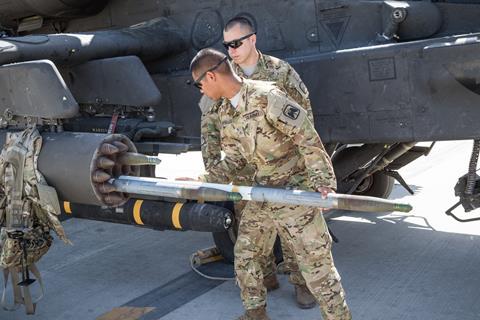 The Hydra-70 is an unguided 70mm (2.75in) rocket. When the BAE Systems Advanced Precision Kill Weapon System (APKWS) II upgrade kit is added it becomes a precision weapon, however.
The US military has experimented with using APKWS upgraded rockets in new roles recently.
In December 2019, a US Air Force (USAF) Lockheed Martin F-16 shot down a subscale drone with the guided rocket. The proof-of-concept demonstration aimed to show that the fighter's targeting pod, combined with the precision rocket, could shoot down a cruise missile, as a lower-cost alternative to using an air-to-air missile like the sophisticated Raytheon AIM-120.
BAE also recently test fired APKWS-guided rockets from a ground-based vehicle for the first time, the company said on 1 June.
In September 2019, BAE won a $2.68 billion contract from the US Navy (USN) for an undisclosed number of APKWS II upgrade kits. Those were intended primarily for the USN, but were also ordered on behalf of the US Army, USAF and several Foreign Military Sales programme customers.
The APKWS is qualified to be launched from 13 aircraft types, including the US Army's Boeing AH-64D/E Apache attack helicopter, Sikorsky UH-60L/M Black Hawk utility helicopter and Boeing AH-6M Little Bird light helicopter gunship.
To precisely hit targets, the APKWS uses a distributed aperture semi-active laser seeker, and a self-contained guidance and control system that is installed between the warhead and rocket motor of a Hydra-70. APKWS rockets have a maximum range of 2.7nm (5 km) and hit targets 80% of the time within 2m (6.6ft), claims BAE.
The company pitches APKWS as cheap and effective.
"Declining budgets and concern over collateral damage has increased the need for precision-guided weapons for a more low-cost and effective response against soft and lightly armoured targets," BAE says.