The US Army has awarded Bell and a Sikorsky-Boeing team Competitive Demonstration and Risk Reduction contracts for the next stage of its Future Long Range Air Assault (FLRAA) programme.
The service made the announcement on Twitter on 16 March and not disclose the value of the contracts.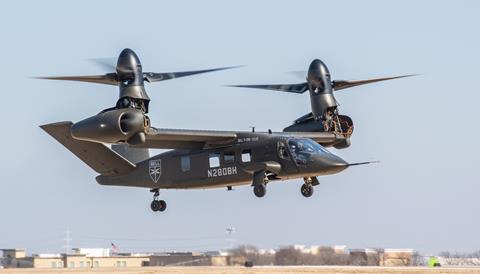 The two teams will compete to replace the service's Sikorsky UH-60 Black Hawk, a utility helicopter which carries troops into battle and entered into service in 1979.
Over the last several years, Bell and the Sikorsky-Boeing team designed, built and flew demonstrators for the service's Joint Multi-Role Technology Demonstration programme, a precursor to the FLRAA programme. Bell built its tiltrotor V-280 Valor. The Sikorsky-Boeing built the compound helicopter SB-1 Defiant.
Under the risk reduction agreement, both teams are being asked to refine their designs, prior to a fly off competition which will determine what rotorcraft the US Army selects as its next workhorse.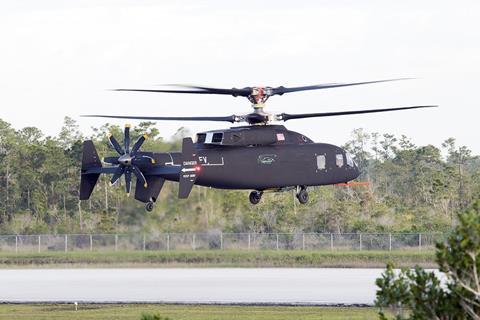 The US Army wants to move quickly and equip its first unit with FLRAA no later than 2030.
Like the UH-60, FLRAA is intended to have a wide role within the US Army. The service wants the aircraft to conduct air assault, maritime interdiction, medical evacuation, humanitarian assistance, tactical resupply, and combat search and rescue operations, among other roles. It also is to be able to do those tasks while flying into a battle against advanced countries like China or Russia.
To survive in that environment, the US Army wants its next utility rotorcraft to have significantly better performance than the UH-60. It wants a maximum cruise speed of 280kt (519km/h). It also wants the aircraft to have an unrefuelled combat radius of 300nm (556km), and a one-way unrefuelled range of at least 2,440nm (4,520km).