The US Army is experimenting with ways to conduct Sikorsky UH-60 Black Hawk air assault missions using soldiers wearing its Integrated Visual Augmentation System (IVAS) goggles.
The service sees the augmented reality goggles as a way for soldiers to quickly gather situational awareness about a landing zone and surrounding terrain using video feeds from cameras mounted on aircraft, unmanned air vehicles (UAVs) or ground vehicles.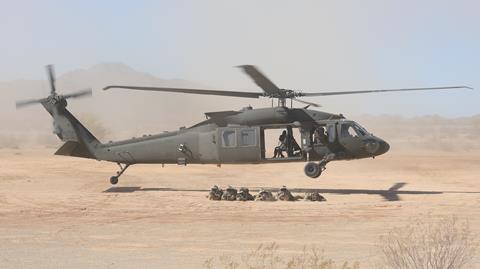 The IVAS goggle, which is based on Microsoft's HoloLens augmented reality headset, can receive video feeds over wi-fi or a tactical radio network. The system also contains thermal and night vision cameras to allow soldiers to see in degraded visual environments, such as at night or in dense fog.
As part of recent Project Convergence 21 experiments at the Yuma Proving Grounds in Arizona, the US Army tested the ability of soldiers to receive and use real-time video feeds that came from a camera mounted to the bottom of a Black Hawk. FlightGlobal spoke to US Army personnel in Yuma on 26 October about the experiment.
"As we're traveling, they can see the entire route in and they can see the terrain that they would be exiting the aircraft to before it turns into a brownout situation," says Stephen Morgan, a US Army pilot who participated in the demonstrations. "[In near peer fights], we're not going to own every square inch of the battlefield, like we have with [counter-insurgency operations]. So, being able to see what's ahead of us before we get there is only going to save lives."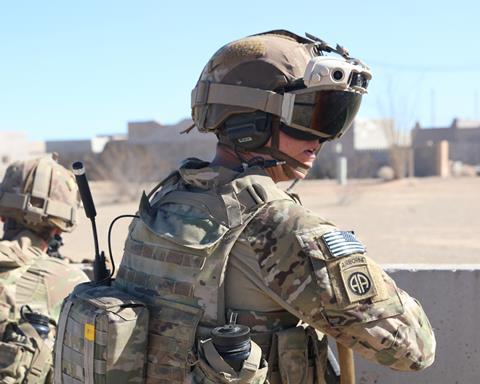 While on board the UH-60 the IVAS goggles receive data over an encrypted wi-fi network. When the soldiers step off the Black Hawk, the augmented reality headsets connect to a local tactical radio network.
Pilots in the UH-60 can use tablet computers running Android Team Awareness Kit (ATAK) software to share mission information to soldiers wearing the IVAS headset, says Captain Roberta Woronowicz, a commander with the 82nd Combat Aviation Brigade. ATAK is an open source mapping program that allows military personnel to share geospatial information, like their location and the location of enemy forces.
The US Army envisions soldiers wearing augmented reality headsets would be given continuous updates of the battlefield as data is received by a helicopter. For example, the location of threats spotted by air-launched effects – a sort of multipurpose small drone launched from a helicopter or large UAV – could be rebroadcast to IVAS-wearing soldiers.
"From the command perspective that provides increased situational awareness across the battlespace," says Woronowicz. "You're able to see and message different players that are involved in this complex operation."