The US Army granted start-up RE2 Robotics a $1 million contract to develop a robotic arm for the purpose of autonomously refuelling Boeing AH-64 Apache attack helicopters in the field.
The service wants to use robots to reduce the number of personnel needed to refuel helicopters at remote way stations, potentially allowing its fleet to fly further without a heavy logistical ground-based footprint. For example, the technology could enable dispersed operations, such as island hopping across the Pacific and Indian Oceans.
The Pentagon sees dispersed operations as a way to avoid having its forces wiped out in a single ballistic or cruise missile attack from advanced adversaries such as China and Russia.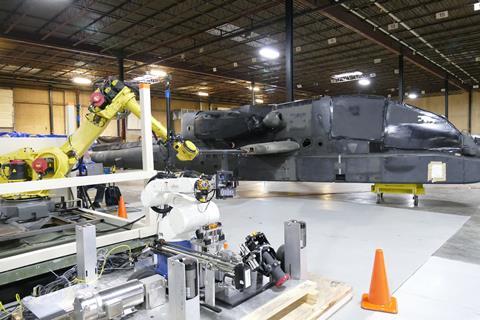 Funding for the robotic arm refuelling project, called Remote Robotic Refueling for Extended Missions, comes from the US Army Combat Capabilities Development Command Aviation & Missile Center. It is being developed as part of the Autonomous and Robotic Remote Refueling Point programme, an ongoing effort to create autonomous refuelling technologies.
RE2 says its robotic arm system is mounted on an unmanned ground vehicle made by Pratt Miller. It is capable of autonomously placing a fuel nozzle into the AH-64's fuel port and disconnecting when the helicopter is topped off. The robot can operate in an "unstructured, outdoor environment" using multiple sensors that create "3D situational awareness", says the company.
"Upon a pilot's command, this system will quickly and efficiently remove a fuel line from a stored location, engage the fuel line with the Apache helicopter, and then move it back into a stowed position, completely autonomously," says Amanda Sgroi, director of computer vision and autonomy with RE2. "Because the system is unmanned, it will enable troops to extend the range of their missions while eliminating the need for soldiers to remain isolated at refuelling stations, further reducing the size of a mission's logistical footprint."
Removing soldiers from the fuelling stations – a potential target of adversaries – would also reduce casualty risks, the US Army has said. The US Navy and US Air Force (USAF) may also find uses for robotic refuelling for aircraft, land vehicles and ships, the service has said.
Automating the logistics that underpin dispersed operations is a priority for the US Department of Defense (DoD) due to the resource-intensive nature of operating from many small bases. More bases means more anti-aircraft weapons, ammunition depots, communications equipment, fuel storage, aircraft hangars, maintenance personnel and soldiers.
In light of those burdens, the DoD has been seeking to reduce its personnel requirements.
Last October, the Pentagon granted a contract to Sea Machines Robotics to develop a prototype autonomous ocean barge to serve as a floating "forward arming and refuelling" base for rotorcraft. Autonomous sea barges and autonomous refuelling might free larger, more personnel-intensive assets – like aircraft carriers and amphibious assault ships – from supporting aircraft operations.