The US Army is calling for ideas from US aerospace manufacturers for dealing with cognitive overload in next-generation rotorcraft.
The call for white papers comes ahead of the service's plans to launch a "Holistic Situational Awareness—Decision Making" development programme in fiscal year 2021, it says in a request for information posted on 16 April.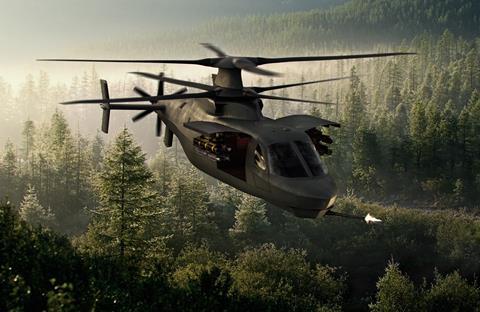 The US Army is worried that pilots are, and will increasingly be, unable to make sense of an avalanche of information coming into the cockpit from a growing number of sensors, such as radar, electro-optical, inertial instruments, and terrain and obstruction data, among other data sources.
"The crew is forced to search, sort and synthesise large amounts of data and information across multiple systems in order to build a mental model of the mission and operational environment," says the US Army. "This may result in cognitive overload, loss of situational awareness, and/or reduced mission effectiveness. This cognitive overload on flight crews has reached a tipping point where situational awareness is diminished and effective and expedient decision making is hampered."
The US Army wants hardware and software solutions to be installed in its Future Long-Range Assault Aircraft (FLRAA) and its Future Attack Reconnaissance Aircraft (FARA). The service is researching technology that will be ready for installation by fiscal year 2026, as well as less-mature technology that won't be ready until after that date.
It is looking for technologies to handle four tasks: autonomous decision aiding and information distillation; data and sensor fusion; human-machine interfacing; and information management.
For example, in the area of autonomous decision aiding and information distillation, the US Army wants "technologies that adjudicate what knowledge products are presented to the crew members and when they should be presented," it says. "The intent is to ensure that cognitive offload and situational awareness are maximised when appropriate."
Information is to be presented to the crew based on urgency.
The service wants "technologies that statistically analyse and prioritise risk from domain data, information, data source, data quality, -attack, and/or knowledge products in real time," it says. "These should allow for pre-mission allowable risk levels to be selected and continually monitored throughout mission operations."
Crew members could view and interact with data via windscreen or helmet-mounted displays, auditory systems, voice commands or head- or eye-tracking technology.
The Holistic Situational Awareness—Decision Making effort comes as the US Army looks to use air-launched unmanned air vehicles – so-called Air Launched Effects – for scouting missions. The service wants Air Launched Effects to relay targeting data back to crew members in FARA, who would then coordinate a strike with long-range missiles or by passing coordinates back to long-range artillery.