Looking for new ways to support troops, the US Army for the first time flight tested an autonomously controlled Sikorsky UH-60A Black Hawk helicopter teamed with two unmanned air vehicles (UAVs) that deployed in flight.
The 1 November test by the US Defense Advanced Research Projects Agency (DARPA) was part of a US Army effort to explore how autonomous UH-60s might drop off, protect and resupply troops, DARPA says. The agency disclosed the tests on 9 November.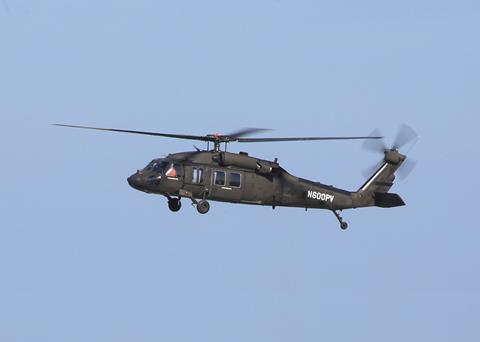 DARPA conducted the test as part of the US Army's Project Convergence exercises, conducted at the Yuma Proving Grounds in the southern Arizona desert. FlightGlobal witnessed an earlier iteration of the test on 26 October.
The US military has previously flown autonomous UH-60s, but the recent tests are a further step by the army in evaluating how autonomy fits within its future flight capabilities. The demonstration was the first time the DARPA Black Hawk had flown an autonomous resupply mission. It was also the first time that the aircraft autonomously landed on an unimproved landing zone.
The army is pondering ways to incorporate DARPA's Aircrew Labor In-Cockpit Automation System (ALIAS) kit into its fleet of more than 2,200 Black Hawks. ALIAS is designed to allow even the UH-60A – the oldest model of the type, introduced in 1979 – to fly autonomously.
For the recent flight tests, DARPA imagined a scenario where a squad of US soldiers were pinned behind enemy lines; resupply flight routes were threatened by enemy anti-aircraft weapons – making the mission too dangerous for US Army pilots.
Enter the autonomous UH-60A Black Hawk, paired with two Area-I Altius-600s – small UAVs known as air-launched effects that can provide surveillance of ground targets.
While the Black Hawk was en route, the Altius-600s deployed from a launch kit bolted to the helicopter's cabin deck, in another first for the programme.
STEP-BY-STEP: DARPA'S AUTONOMOUS UH-60 RESUPPLY DEMONSTRATION
1. A soldier on the ground called for a resupply mission using a tablet running the Android Team Awareness Kit (ATAK)
2. A DARPA Optionally Piloted Vehicle (OPV) UH-60A Black Hawk, with safety pilots on board, autonomously started its engines, took off and flew toward the soldier
3. En route, the Black Hawk autonomously launched two Altius-600s based on commands from the ground soldier
4. The Altius-600s overflew the battlefield, providing target identification and intelligence, surveillance and reconnaissance. They replaced previously launched Altius-600s that were reaching the end of their endurance
5. The Black Hawk autonomously landed at a location identified by the ground soldier
6. Soldiers offloaded cargo from the Black Hawk
7. The ground controller issued the Black Hawk a return-to-base command
8. The Black Hawk autonomously took off, flew to base, landed at a designated spot and shut down its engines
"It takes less than an hour to install the [launch] kit into a Black Hawk," says Stuart Young, programme manager for DARPA's ALIAS programme. "The kit for the Black Hawk was built on a single sheet of steel that can be easily installed or removed."
Using UH-60s for autonomous resupply of troops appears to be a leading potential application of ALIAS. Black Hawks can carry an external sling load up to 3,630kg (8,000lb) and have a range of 320nm (593km). That is far more range than any cargo-toting UAV in development, says Brigadier General Walter Rugen, director of the Future Vertical Lift Cross Functional Team within US Army Futures Command.
"Somebody is going to have to come up with a pretty compelling [vertical-lift UAV]… that can carry that amount and do it at that range," he says.
Rather, the US Army's UH-60s are bought and paid for. "We have all that iron here now," Rugen says.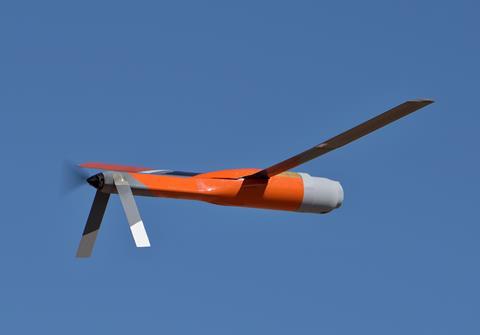 Air-launched effects like Altius-600s are multi-purpose drones deployed from helicopters and larger UAVs. They can be used for route reconnaissance, communications retransmission, electronic warfare support or dive bombing. Altius-600s can automatically identify targets; for instance, spotting anti-aircraft weapons during route reconnaissance.
Cruising at only 60kt (111km/h), Altius-600s are too slow to keep up with Black Hawks, which cruise at 149kt. But the UAVs can be deployed ahead of Black Hawks for route reconnaissance, says Young. Threats identified by the UAVs can be "relayed from the command centre to the Black Hawk, which would then autonomously choose an alternative route if the threat overlapped with its path", he adds.
The US Army has also requested proposals for an "Air-Launched Effects Large" that "is intended to launch and keep pace with helicopters", he says.
CARGO RESUPPLY EXPERIMENTS
The US Army hopes to start replacing its UH-60 fleet with its next-generation utility rotorcraft, the Future Long Range Assault Aircraft (FLRAA), in 2030. Contenders for the programme – the Bell V-280 Valor and Sikorsky-Boeing Defiant X – promise to meet the service's maximum cruise speed requirement of 280kt.
But speed comes with cost. The service is targeting a $43 million average unit manufacturing cost for the FLRAA, and the budget-constrained US Army has not committed to replacing Black Hawks one-for-one. It intends initially to field the FLRAA with "forced or early entry" units, such as the 101st Airborne Division, 160th Special Operations Aviation Regiment and the 82nd Airborne Division, the service has said.
For those reasons, UH-60s will seemingly remain in the fleet for decades, being used as secondary or support aircraft.
With the ability to retrofit older UH-60s, the US Army is considering using some as "attritable" aircraft, says Young. The attritable concept, pioneered by the US Air Force, is aimed at manufacturing autonomous aircraft that can be lost in battle and cheaply replaced.
"Yes, it's money," says Young. "But at least there's no life or limb being lost [if the helicopter is shot down]."
HUMAN ELEMENT
Perhaps one day far in the future all US Army aircraft will be pilotless. But not any time soon; the service is not eager to remove humans from the equation.
"Would we put the squad in the back [of a helicopter], but have no pilot up front? I don't think so," says Rugen. Human pilots are "low-latency" decision makers who are resilient to cyberattacks, he adds.
Instead, autonomy will likely aid pilots and help avoid accidents. In degraded visual environment situations – for example, flying in darkness, fog, rain or snow – ALIAS can help detect obstacles. It comes with digital terrain elevation data and other types of maps preloaded, and employs LiDAR sensors and visual light cameras to scan surroundings, says DARPA's Young.
ALIAS can scan landing zones and store that information, improving safety when operating in degraded visibility, Young adds. "There's a lot of safety features that we can provide. There's a lot of low-level controls that we can take away from the pilot having to focus on just hovering, which is a non-trivial task."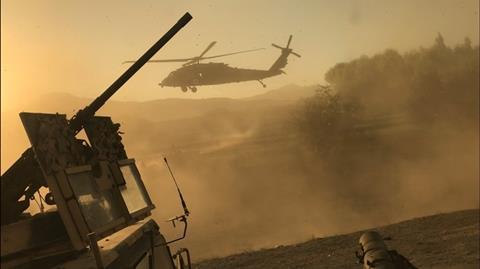 Advanced sensors and digital elevation maps might also aid in automating nap-of-the-earth flight, a tactic for avoiding radar detection by flying low and hiding in the radar shadows of valleys and hills. In theory, ALIAS could enable a helicopter to autonomously fly nap-of-the-earth routes better than humans.
Autonomy could also allow Black Hawks to fly more-optimised flight paths, and to operate with fewer control inputs, potentially minimising fuel burn and improving mission endurance, says Young. The extent of such gains remains unknown without additional testing, he adds.
"The army needs to start figuring out how would they want to use these capabilities," he says. "What are the tasks that they really want to have automated and built up as we go forward?"