The US Army is to start receiving the Version 6 hardware and software update for the Boeing AH-64E Apache attack helicopter in August.
Boeing says it has already delivered the update to one international customer, though it declines to name the nation. The update improves the AH-64E's maritime and unmanned air vehicle (UAV) targeting abilities, among other enhancements.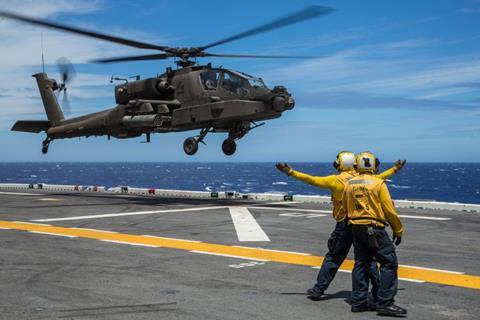 The rollout of maritime capabilities comes ahead of Boeing putting forward the Apache for Australia's planned acquisition of 29 armed reconnaissance helicopters. Boeing is pitting the AH-64E against the Bell AH-1Z and upgrades Airbus Helicopters is offering for Canberra's fleet of Tiger attack helicopters.
Part of the AH-64E's maritime capability is its AN/APG-78 Longbow Fire Control Radar, which has been optimised for ship hunting as part of Version 6.
"The radar takes into account the various sea states that you might encounter, whether that be rough seas, calm seas," says TJ Jamison, director of vertical lift for international sales. "It would detect and identify a surface vessel, and then classify them by size and display them as an icon on your multifunctional displays inside the cockpit."
Boeing notes the detection range on the Longbow Fire Control Radar was also increased from 4.97mi (8km) to 9.9mi as part of the Version 6 update.
Jamison adds that Boeing sees no need to do more marinisation of the AH-64E as the helicopter already has an anti-corrosive treatment and folding blades. The company might, however, make some small modifications to the helicopter's rotors to speed up the time it takes to fold its blades.
Version 6 is only available for the AH-64E variant. AH-64D variants that are remanufactured into the E variant are eligible for the upgrade, says Boeing.
In addition to the Version 6 upgrades, remanufacturing the D variant into the E variant improves helicopter performance by adding the GE Aviation T700-701D turboshaft, composite main rotor blades and an improved rotor drive system.
The US Army plans to buy 791 AH-64Es via remanufacturing its D variants as well as buying a few new-build aircraft. The service wants to continue operating the Apache until 2060.
In addition to maritime and UAV targeting capabilities, the Version 6 upgrade adds an engine first limit indicator, a modernised rocket launcher, and a modernised radar frequency interferometer to provide passive geolocation of emitting radar threats, and an extended range and expanded bandwidth manned-unmanned teaming datalink capacity, among other features.
Recently, Boeing received Foreign Military Sales approval from the US State Department to potentially remanufacture Egypt's AH-64Ds into the E model, as well as to sell new-build examples of the helicopter to the Philippines and Morocco.