The US Coast Guard's MH-65D Dolphin helicopter upgrade programme began full-rate production on 21 November.
Full-rate production means the US Coast Guard plans to convert 22 examples of the Eurocopter MH-65D per year into the "E" configuration, says the service on 16 January.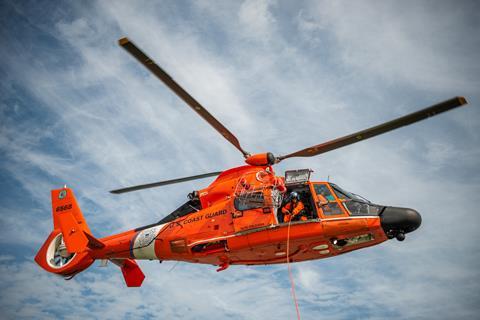 The step up in production officially started in November with the transfer of one aircraft to the US Coast Guard's Aviation Logistics Center in Elizabeth City, North Carolina. Two more helicopters were transferred in December and one was transferred in early January 2020, says the US Coast Guard.
The MH-65D is the US Coast Guard's short-range utility helicopter. It is best known for its role as a search and rescue aircraft, but also is used for law enforcement and homeland security missions.
The service has been gradually upgrading its fleet of MH-65s since 2007, when helicopter turboshafts were replaced with the Turbomeca Arriel 2C2-CG, increasing power by 40%. Later, the helicopters were upgraded with 7.62mm machine guns and the ability to land aboard US Coast Guard Cutters. The "E" configuration changes are the last phase of the service's upgrade plan.
"E" configuration upgrades to the twin-engined helicopter are focused on the aircraft's avionics, including improvements to its automatic flight control system and a new digital flight deck with a Common Avionics Architecture System. That common avionics architecture is shared with the US Coast Guard's Sikorsky MH-60 Jayhawk medium-range helicopter, as well as the other H-60 variants in the Department of Defense's inventory, such as the UH-60 Black Hawk.
The helicopter will also receive an improved digital weather and surface search radar as part of the upgrades, says the service.
The US Coast Guard plans to convert all 98 examples of MH-65 in its fleet to the "E" configuration by fiscal year 2024.
At the same time that upgrades are being done, the US Coast Guard is putting the MH-65 through a Service Life Extension programme, which is intended to increase the service life of the helicopter by 10,000 flight hours, to a total of 30,000 flight hours.
Service life extension work includes replacing five major structure components: the nine-degree frame, canopy, center console floor assembly, floorboards and side panels, says the service.
The US Coast Guard plans to continue flying the MH-65 until between 2035 and 2039, at which time it would begin replacing the helicopter. The service may opt to buy a variant of the US Army's Future Attack Reconnaissance Aircraft, which is scheduled for introduction into service in 2028.