US helicopter manufacturers Bell and Sikorsky are continuing their push into Eastern Europe as they eye new opportunities in the region.
Sikorsky has a local industrial presence through its PZL Mielec subsidiary and both airframers have already won regional customers: Bell last year was selected by the Czech Republic to supply eight UH-1Y transports and four AH-1Z attack helicopters via the US government's Foreign Military Sales process, to replace a fleet of Russian-built Mil Mi-24s.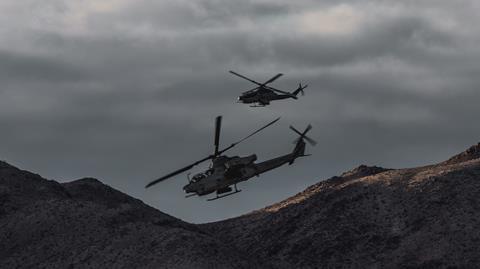 That deal advanced on 4 September, when the company was awarded a $272 million fixed-price contract for Prague's aircraft, which will all be delivered by 2023. Including training, spare parts and weapons, the acquisition is valued at $630 million.
Bell has previously said it hoped the deal would spur regional expansion and it is now looking to Poland as the next potential buyer for the AH-1Z.
Speaking at the MSPO show in Kielce on 8 September, Joel Best, director of global sales and strategy at Bell, said the company will offer the 'Viper' to Warsaw under its Kruk programme to acquire up to 32 new attack helicopters, again as a Mi-24 replacement.
Bell faces competition from the Airbus Helicopters Tiger, Boeing AH-64 Apache and Leonardo Helicopters AW249 – an attack type being developed for the Italian army.
In addition, Poland is also seeking a successor to its inventory of elderly 3.7t Mi-2 multirole rotorcraft.
An initial batch of 32 helicopters is being sought, with Warsaw having received initial expressions of interest from all the big Western manufacturers.
Although Best says Bell will most likely offer an armed version of the light-single 407, he notes that given the broad range of missions to be performed, the best solution may be to two different helicopters.
"We are able to meet all requirements and we will act in accordance with the guidelines of the Polish government," he says.
A separate procurement effort is also seeking multirole maritime helicopters with a maximum take-off weight of 6.5t for Poland's navy, for which Bell will bid the 412.
Should it prevail in the Kruk competition, Bell has promised to perform maintenance on the helicopters locally via an agreement with Polish firm WZL-1.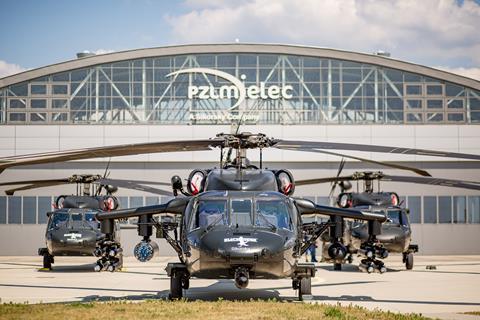 Bell also proposes adding local companies specialising in transmission components to its global supply chain.
However, Leonardo Helicopters and Sikorsky already have a significant industrial presence in the country, through their respective PZL Swidnik and PZL Mielec subsidiaries.
The latter recently built its first Sikorsky S-70M that conforms to US Federal Aviation Administration (FAA) certification standards, allowing the plant to provide civil-approved Black Hawks to commercial operators for niche applications such as fire-fighting missions.
PZL Mielec will build S-70Ms on the same production line as the S-70i, which the company has produced since 2011 for 17 customers worldwide, including the Polish National Police and defence ministry.
"The i and M variants are identical except for the designation data plate," says the company's president and general director Janusz Zakrecki.
The FAA will evaluate and fly the first S-70M at Sikorsky's facility in West Palm Beach, Florida, later this year as part of its final certification.
"The ultimate customer for first S-70M is expected to add the Firehawk aerial firefighting system to the aircraft," Zakrecki says.
Meanwhile, Sikorsky is eyeing further opportunities for the Black Hawk in nearby Romania, where it has signed a memorandum of understanding with local aerospace firm Romaero to create an MRO facility for civil and military examples.
PZL Mielec will work with the Romanian firm to set up the maintenance and customisation facility near Bucharest.
Sikorsky is offering an initial batch of 12 Polish-built Black Hawks to Romania as part of a wider acquisition.
Bell is also eyeing the Romanian contest, while Airbus Helicopters has a long-standing presence in the country.
Additional reporting by Dominic Perry in London