The US Marine Corps (USMC) has officially retired the Bell AH-1W Super Cobra attack helicopter from its fleet, after more than 34 years of service.
The light twin-engined helicopter was based on the Vietnam War-era single-engined AH-1 Cobra, a pioneering attack helicopter for the US Army.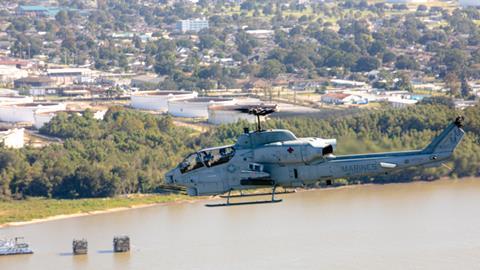 The Super Cobra was used by the USMC during Operation Desert Storm, Iraqi Freedom and Enduring Freedom. The AH-1W made its final flight during a "sundown" ceremony at NAS Joint Reserve Base in New Orleans on 14 October, the USMC says.
The helicopter was originally designated as the AH-1T+ and first flew in 1983. Bell delivered the first example of the rotorcraft in 1986 and the last aircraft in 1999.
The USMC had a fleet of 170 examples of the attack helicopter, which had accumulated 933,614 flight hours up through August 2020.
The two-bladed main rotor Super Cobra is succeeded by the four-bladed AH-1Z Viper. Most of the Vipers are upgraded variants of the Super Cobra, though the service operates some new-build examples as well.
The AH-1Z has a maximum speed of 200kt (370km/h) and a combat radius of 131nm (243km), says Bell. It carries two pilots seated in tandem.
Typically, the AH-1Z is used for air-to-ground attack missions, including anti-armour roles, but it is also used for aerial reconnaissance and escort flights. The attack helicopter has a maximum useful load of 2,610kg (5,760lb) and can carry Lockheed Martin AGM-115 Hellfire missiles, 70mm rockets, Raytheon AIM-9 Sidewinder air-to-air missiles and has a 20mm rotary cannon under its nose.