Bell Boeing has delivered to the US Marine Corps (USMC) the first MV-22 Osprey modified into a "common configuration", part of a programme to boost the type's 55% readiness rate by increasing fleet commonality.
The Common Configuration – Readiness and Modernization (CC-RAM) programme aims to help MV-22s reach an 80% mission capability goal.
The USMC operates a mixed fleet of older block B and block C MV-22 variants. That means its maintenance crews must manage parts for the different types, an inventory problem which causes the tiltrotor to be frequently grounded due to missing or mismatched components.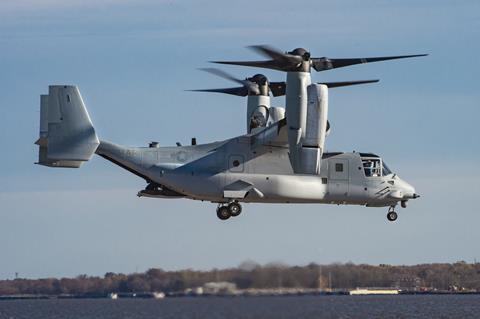 Lack of common parts in the inventory, plus issues with older engine nacelles, are two problems the service believes that, once fixed, will improve the MV-22's mission capability rate.
"The Osprey's best chance at overcoming the current readiness plateau of 55% relies on executing CC-RAM and [nacelle improvement] in parallel," the USMC says in its 2019 Aviation Plan. "A common configuration that implements component redesign, modern avionics and design improvements to facilitate maintenance are required for closing the readiness gap. CC-RAM will update older aircraft and bring the entire fleet to a minimum number of configurations, greatly simplifying the maintenance load."
The CC-RAM programme has the goal of reducing aircraft configurations from 75 to 25, and eventually to five.
The USMC believes the modifications will help the aircraft reach the Department of Defense's 80% mission capability rate goal for the MV-22.
The programme plans to bring 129 block Bs and 126 early block Cs to the late model block C production configuration, according to the USMC.
The USMC also aims to start inserting new technologies developed from the Joint Multi-Role, Future Vertical Lift and other programmes into the MV-22.
The first modified MV-22 was a block B variant delivered to the fleet in 2005. In 2018, the aircraft flew from USMC Air Station New River back to Boeing's Philadelphia facility for modernisation changes.
The next CC-RAM modified MV-22 is expected to be delivered in early 2020, says the USMC.