The US Navy (USN) has ordered another nine Sikorsky CH-53K King Stallion heavy-lift helicopters as part of a new $879 million contract.
The lot 5 helicopters are scheduled to be delivered in 2024, the US Naval Air Systems Command (NAVAIR) said on 25 June. The contract includes an option for the USN to purchase a further nine helicopters as part of lot 6, which could be awarded in fiscal year 2022.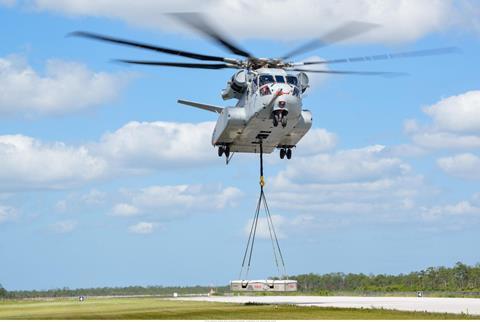 The CH-53K is to replace the US Marine Corps' ageing CH-53E Super Stallion as a transport for troops and heavy equipment, such as artillery or light-armoured vehicles, during amphibious assaults. Intended to operate from aircraft carriers and amphibious assault ships, CH-53Ks are capable of lifting 12,250kg (27,000lb) over a mission radius of 110nm (203km).
NAVAIR says King Stallions will start initial operational test and evaluation (IOT&E) in July. The CH-53K is in low-rate initial production, but after IOT&E it could be approved for full-rate production. That would allow the service to buy helicopters at bulk discounts under multi-year contracts. By law, the Department of Defense cannot grant multi-year contracts without an aircraft having finished testing.
The helicopters under the lot 5 contract cost $97.6 million each, says NAVAIR. The unit price of Lot 6 helicopters is to be reduced to $94.7 million. Those costs do not include engines and other "government-furnished equipment", says the service.
The lot 5 deal brings the total number of CH-53Ks ordered to 33 examples.
The service has a 200-aircraft programme of record for the CH-53K. However, the USMC indicated in 2020 it may buy one-third fewer examples, freeing money for other priorities like anti-ship missiles.
NAVAR has previously said it wants the heavy-lift helicopter to be first deployed in 2023 or 2024.
The USMC is the CH-53K's main customer. Germany had considered buying the helicopter but cancelled its heavy-lift helicopter acquisition effort last September due to budget constraints. In February, Israel became the first international buyer of the King Stallion, though the quantity of aircraft it intends to purchase is undisclosed.