The US Department of State has approved the sale of four Boeing CH-47F Chinook cargo helicopters to Australia for an estimated $259 million.
The US Defense Security Cooperation Agency (DSCA) delivered the required certification notifying the US Congress, it said on 29 April.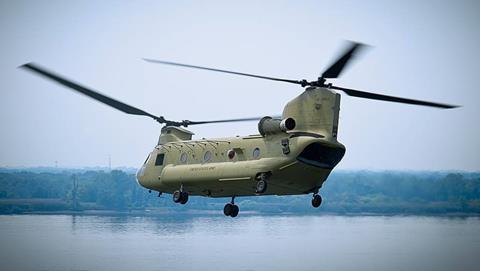 As part of the possible Foreign Military Sales deal for the CH-47F helicopters, Australia is requesting eight Honeywell T55-714A turboshaft engines, five BAE Systems AAR-57 common missile warning systems, as well as eight embedded Global Positioning System/Inertial Navigation Systems +429 and two EAGLE+429 Embedded Global Positioning System/Inertial Navigation Systems.
The package also includes mission, communications and navigation equipment, spare parts and components, special tools and test equipment, publications and technical manuals, according to the DSCA.
"Australia is one of our most important allies in the Western Pacific," says the US Department of State. "The strategic location of this political and economic power contributes significantly to ensuring peace and economic stability in the region."
Australia is one of the USA's most-important allies in the Indo-Pacific region. It is part of the Quadrilateral Security Dialogue, known popularly as "the Quad", an informal group of four nations, that also includes India, Japan and the USA, which periodically hold diplomatic talks.
The Royal Australian Army already operates 10 examples of the CH-47, with an average age of 5.5 years, according to Cirium fleets data.
Recently, the US Army, the helicopter's main customer, and Boeing have been looking for ways to extend the CH-47's production run using Foreign Military Sales. In 2020, the service said it could keep production running at a rate of 18 helicopters per year until at least 2025 with partial reliance on export sales.
In April, the UK reportedly agreed to a $2 billion purchase of 14 Chinooks.
The $259 million estimated purchase price is the upper end of what Canberra will actually pay. The Department of State notes that the actual dollar value will be lower depending on final requirements and what the Australian government authorises. The closing of the sale is also not certain.