The US Department of State has approved a possible Foreign Military Sales deal to supply Israel with 18 examples of the Sikorsky CH-53K King Stallion heavy-lift helicopter.
The US Defense Security Cooperation Agency (DSCA) says it notified the US Congress on 30 July of the possible deal.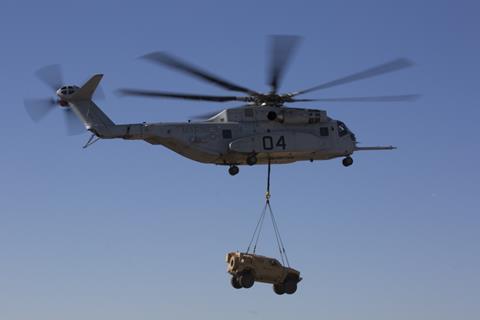 The prospective deal is still subject to further negotiations with the Israeli government. It is estimated to be worth up to $3.4 billion, though the final agreed-upon package will likely be worth significantly less.
In February, the Israeli defence ministry selected the CH-53K over the Boeing CH-47 Chinook. The King Stallion was developed initially for the US Marine Corps and is the most powerful helicopter in the US Department of Defense's inventory.
The heavy-lift CH-53K is powered by three GE Aviation T408-400 turboshaft engines, which combined allow the helicopter to carry an external sling load of up to 12,200kg (27,000lb) – for example, an armoured Joint Light Tactical Vehicle, plus several thousand pounds of additional payload – over a distance of 110nm (204km). Israel has requested 60 T408-400 engines: 54 installed in the helicopters and 6 spares.
The Middle Eastern country has also requested 36 embedded global positioning system and inertial navigation systems with selective availability and anti-spoofing modules. Other requests include communication equipment, GAU-21 .50 calibre machine guns, a mission planning system, spare and repair parts, support and test equipment, as well as aircrew and maintenance training.
"The United States is committed to the security of Israel, and it is vital to US national interests to assist Israel to develop and maintain a strong and ready self-defence capability. This proposed sale is consistent with those objectives," says the DSCA. "The proposed sale will improve the Israeli air force's capability to transport armoured vehicles, personnel, and equipment to support distributed operations."
Israel plans to use the CH-53Ks to replace its aged fleet of 22 CH-53D 'Yasur' helicopters, which have been in service since the 1960s.