The US Air Force Special Operations Command (AFSOC) is looking to leap ahead with the aircraft that replaces its Bell Boeing CV-22 Osprey.
That means the special operations command is not likely to buy the Bell V-280 Valor tiltrotor, Lieutenant General James Slife, commander of AFSOC, said during the Air Force Association's virtual Air, Space & Cyber Conference on 15 September. The V-280 is Bell's pitch for the US Army's Future Long Range Assault Aircraft programme, which aims to field a high-speed troop transport by 2030.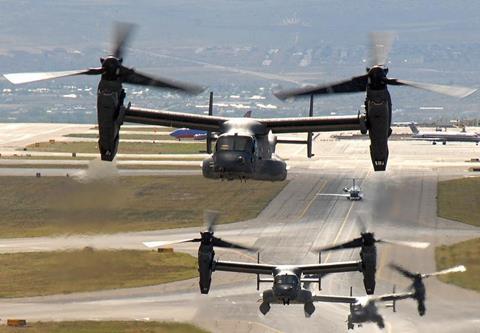 "At least our initial thinking in AFSOC is that we're looking at a generation beyond current tiltrotor technology," he says. "We're not just looking at marginal improvements, in terms of speed, range and reliability, but we're looking at a generational movement for a vertical take-off and landing capability going into the future. I think it'll be probably something quite different than the V-22."
By some measures, the V-280 is comparable to the V-22 in performance, though Bell argues advances in tiltrotor technology make it cheaper to own and operate. For instance, the V-280 has a cruise speed of 280kt (519km/h), while the V-22 has a cruise speed of 241kt.
That is not to say that the US Army Special Operations Command might not be interested in the V-280, Slife notes. Rather, the tiltrotor is not a fit for the USAF's special forces.
Instead, AFSOC is looking further ahead for a more futuristic aircraft.
"There are a number of technology and drive system proposals out there that look like they may be within the realm of possibility; that they could provide like a generational step ahead in technology, get us up into jet speed kind of capabilities," Slife says.
"When you look at the future operating environment, where range and access are going to be challenging across the board… I think whatever comes next is going to have to be a generation [ahead] yet again."