UK start-up Vertical Aerospace has unveiled the design of its electric vertical take-off-and-landing (eVTOL) aircraft that will enter series production, and says it aiming to begin the "pioneering, affordable" gull-winged air taxi to market in 2024.
Called the VA-1X, the eVTOL will seat one pilot and four passengers, with the "spacious" cabin arranged with club-seating for "great visibility".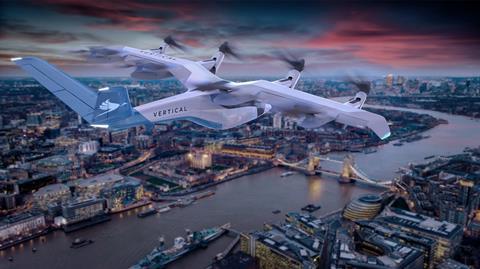 The VA-1X has a payload of 450kg (990lb), a cruise speed of 150nm (280km) and a range of 100nm, which will enable passengers to fly from the UK capital to Brighton, on the south coast in approximately 30min, says the Bristol-based firm. This compares with a 2h trip by car and 1h trip by train, it says.
"The aircraft will bypass road congestion, and will be certificated [in 2024] to the same [European] safety standards as commercial airlines," says Vertical.
The developer's "ultimate aim" is to make the VA-1X significantly cheaper than helicopter flights, "removing one of the major barriers to environmentally friendly air travel".
Prices for air taxi services in the VA-1X "are initially expected to be between a helicopter flight and a private car, and will decrease as adoption grows", it adds,
The VA-1X is "30 times quieter than a helicopter" due to its distributed propulsion system which consists of eight electric motors driving eight wing-mounted rotors.
"Power comes from eight independent lithium-ion batteries located in the inner pylons and wings," says Vertical, although it will not disclose the output of these units.
The aircraft's 15m wingspan ensures it can take off and land from existing helipads, while the VA-1X
fly-by-wire flight control system, supplied by Honeywell, makes it "simple to fly", says Vertical.
The US aerospace giant is a strategic partner in the programme, and will also supply the aircraft's flightdeck technology including multi-touch displays, avionics system controls, avionics software and the vehicle operating system.
Since its launch in 2016 by UK entrepreneur Stephen Fitzpatrick, Vertical has flown several scaled models as well as a full-scale, remotely piloted multi-rotor technology demonstrator called the Seraph, which has undergone extensive flight-testing at a base in North Wales.
The VA-1X is being developed by several engineers who formerly worked in the Formula One racing sector and will leverage knowledge about lightweight materials and powertrain technology from race cars in its design. Vertical also has a base in Oxfordshire, where several F1 race teams are located.
Michael Cervenka, Vertical's chief executive expects eVTOL technology to "revolutionise travel, combining the safety of commercial airlines with the disruptive environmental and cost benefits of the electrification of flight".
He says the VA-1X, takes the eVTOL "one step closer to mass-market adoption, and supporting the next era of aviation".
"At Vertical Aerospace we believe that people should be able to quickly and affordably get from A to B without sacrificing the planet - with the VA-1X, this vision will start to be realised in under five years," says Cervenka.
Manufacture of the first VA-1A prototype will begin later this year with first flight scheduled for 2021, he adds.
As well as passenger transport, the VA-1X will be targeted at cargo, utility and air ambulance operators and the company says services will initially be supported using existing landing sites such as private and commercial aerodromes, airfields, airports and helipads.