The US Army's initial order of Boeing CH-47F Block II Chinooks will not come with Advanced Chinook Rotor Blades, a feature that was to boost the cargo helicopter's lifting capacity.
The new fully composite blades have a swept-tip design and are supposed to add 680kg (1,500lb) to the lifting capacity of the CH-47F, but were left off the service's recent order due to lingering vibration problems.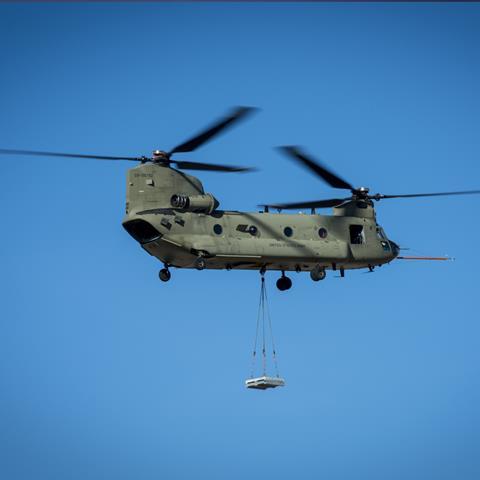 The US Army ordered four CH-47F Block II Chinooks as part of a $136 million contract, Boeing said on 4 October. Those aircraft are scheduled to start being delivered to the service in the beginning of 2023.
The Block II Chinook was designed to improve upon the standard helicopter in several ways. It comes with redesigned fuel tanks that are lighter and carry more fuel, as well as a strengthened fuselage for carrying heavier loads, and an improved drivetrain that is supposed to handle 9% more torque. The cargo helicopter was also supposed to come with Advanced Chinook Rotor Blades.
The "vibration issue was tied to a difference in the vibration resonance and frequency associated with the [Advanced Chinook Rotor Blades] and the new airframe," says Andy Builta, Boeing H-47 programme manager. "If the army were to move forward with [Advanced Chinook Rotor Blades] that wouldn't still need to get addressed."
To fix the problem, a new vibration dampening system tuned to the specific frequencies of the rotors and the helicopter would need to be developed. The US Army could exercise an option at a later date to have the new rotors installed, says Builta.