As chief executive of German industrial giant ThyssenKrupp's aerospace unit, Patrick Marous channels his early passion for flight into assisting aerospace manufacturers in optimising raw materials sourcing
What sparked your interest in aviation?
It started when I was a small boy; my parents were travelling with me for holidays at the time, flying to other countries and regions of the world, and I enjoyed the international atmosphere of airports a lot. It always felt to me like being in a big melting pot, with many different people, cultures and languages coming together. Then of course there were the magnificent aircraft and my heroes, the flightcrews. At the time, security regulations were less pronounced and I had the opportunity, as an unaccompanied minor, to sit in the cockpit during take-off and landing – what amazing experiences. Later on, when I was a teenager, I went on a two-week summer holiday at the Patrick Baudry Aerospatiale Space Camp in Marseille, where I learned a lot about aerodynamics. It was one of the most memorable experiences of my life.
How has your career progressed? What have been the highlights?
I studied international management and commercial economics and started working in the materials distribution business of ThyssenKrupp. Here, I circled through different departments and later on began trading steel products on an international basis. My role had nothing to do with aerospace, except that I was flying a lot. When I started working for our strategy development department a couple of years later, I was in charge of several projects for our aerospace business, investigating the growing importance of composite materials and looking at the nascent Chinese aerospace industry. I then moved to our office in Hong Kong, where I was in charge of building up our Asian sourcing supply base. Coming back to our headquarters in Germany eight years later, I was in charge of our global product management department, working on customer-centric and product-oriented strategies. Three years later, I got the call to head our aerospace unit.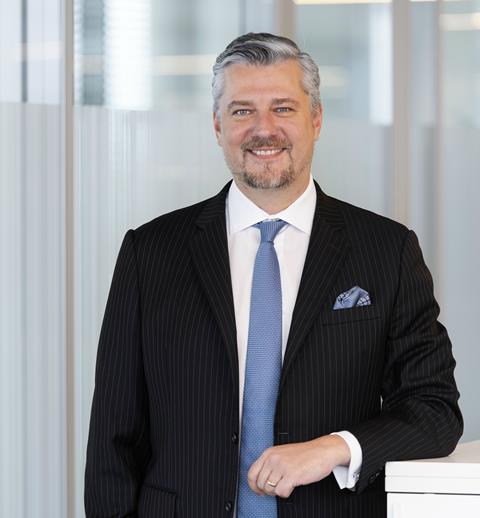 What is ThyssenKrupp Aerospace?
We are a global raw material supply chain manager for the aerospace industry, providing production materials such as aluminium, nickel, steel and titanium to a multitude of companies, For some, we take over complete management of the raw material supply chain and for others, we merely provide the materials. We excel at building and running control tower solutions for our customers, with a deep knowledge of the materials supplied. Our standardised quality systems and our processing and logistics capabilities in 44 locations across 22 countries make us a partner of choice for tier three companies up to OEMs. We are very close to our customers, with whom we have symbiotic, long-term relationships. They benefit from being able to focus on what they do best – engineer and build parts or complete aircraft – while we help manage their raw material supply chain and generate savings by optimising it.
Can you describe your current role and responsibilities?
I am chief executive of the aerospace unit within ThyssenKrupp Materials Services and together with my top leadership team, I develop the strategy for our business and our investment roadmap, by analysing market trends and, most importantly, listening to our customers.
What do you enjoy most about your job?
Working in my company makes me think back to how I felt at airports when I was a boy and that is why I really love to come to work every single day.
What are the challenges?
The aerospace industry is very dynamic and changes a lot. It is a truly global industry and the supply chain is pretty stretched and scattered around the globe. That does not make the life of supply chain managers easy. A lot of things can happen: natural disasters, trade barriers, problems at a tier supplier… all these risk factors have to be taken into consideration. But hey, if it was easy, our customers would not entrust us to do it for them.